13 June 2013 18:08 (UTC+04:00)
1 265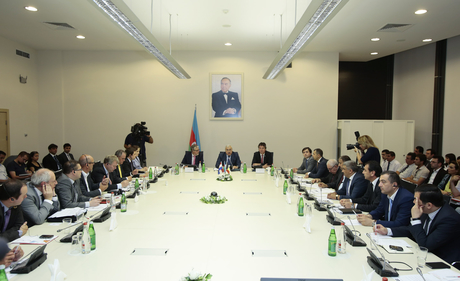 By Gulgiz Dadashova
The Azerbaijan-Belgium-Netherlands business forum organized by Azerbaijan Export & Investment Promotion (AZPROMO) kicked off at the Baku Business Center on June 13.
Belgian and Dutch entrepreneurs working in the field of engineering, the production of opto-mechanical systems and mechanical units, production of glass for solar energy panels, biomass and biogas energy, water purification and other industries attended the forum.
Speaking at the forum, Azerbaijan's Deputy Minister of Economic Development Niyazi Safarov hailed the country`s relations with European countries.
Safarov said that Azerbaijan is ready to share its successful practices with foreign economic partners.
"The economic development strategy pursued by the Azerbaijani authorities has led to greater economic growth. This has resulted in Azerbaijan supporting economic co-operation with more than 150 countries. Today's forum islive proof of this. Such events prove the existence of great interest to Azerbaijan ," Safarov said.
Safarov went on to say that the three countries have successfully established cooperation in many areas.
"There are more than 80 companies backed by Dutch capital and 16 with Belgian capital in Azerbaijan," he said.
According to him, the mutual high level visits make a positive contribution to the development of economic cooperation.
"Various business events and forums are regularly held by our countries. They constitute a logical continuation of the measures taken for the development of bilateral cooperation at the highest level. However, despite this, there is a great potential for further expansion of cooperation," Safarov said.
Safarov said Azerbaijan has established a favorable climate for foreign investment.
"As a result of the reforms carried out by national leader Heydar Aliyev after the restoration of independence of Azerbaijan, there have been significant improvements in the political and economic systems and public administration. Azerbaijan has created and protects three main conditions for the expansion of international cooperation and involvement of new partners; economic, political and social stability. This creates a solid foundation for development and represents the country as a reliable partner in the international arena," he said.
AZPROMO Head Rufat Mammadov, in turn, said that close cooperation has been established between Azerbaijan, Belgium and the Netherlands in political, economic and trade terms.
"In recent years, the Netherlands has invested over $360 million into the non-oil sector of the country. Belgian companies have also discovered Azerbaijan for themselves. There are already 16 companies backed with the Belgian capital in the country," he said.
Mammadov said that today's business forum will make a great contribution to the development of cooperation between the three countries and relations between Azerbaijan and Belgium and the Netherlands will expand and deepen.
According to him, this cooperation covers various areas of activity.
"Among those are the financial sector, high technologies and a variety of industries including food and agriculture. Moreover, cooperation in the field of alternative energy sources is also developing. Belgian and Dutch companies have shown great interest in cooperation with Azerbaijan in this sphere," Mammadov said.
Related News