10 September 2016 17:45 (UTC+04:00)
24 281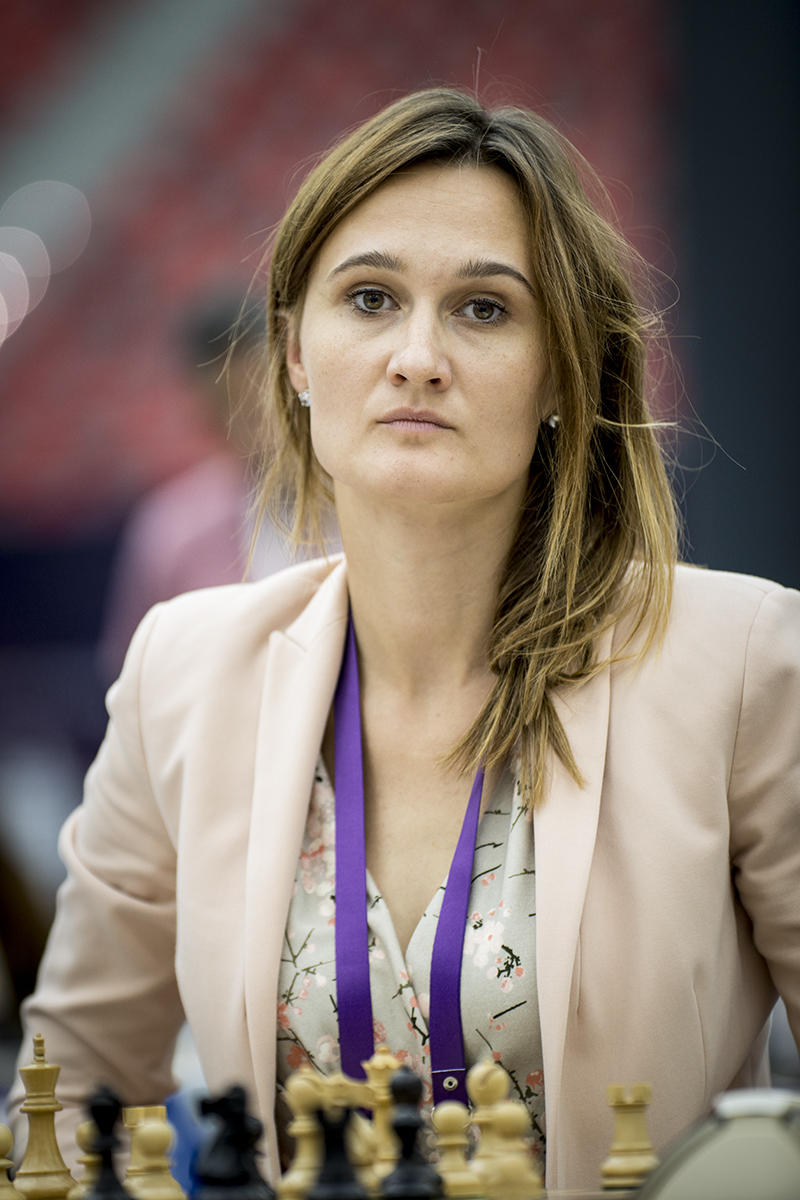 Viktorija Cmilyte is another example of a woman successfully combining chess and a political career: besides being a very well known Grandmaster, she is also a Deputy in the Lithuanian Parliament. Vika only arrived in Baku a few days ago, missing the first part of the tournament, but will be leading her team from now on. After winning her game against Sarai Sanchez Castillo of Venezuela, she visited the Expo Center of the Olympiad, where she ran into Anastasia Karlovich.
- First of all, why did you come so late?
(laughs) It's true, I arrived only two days ago, because of various appointments I had to keep at home. I only had one free week for the Olympiad, but I thought it would be a pity to miss it, so I made sure that I can come at least for one week. It's a fantastic feeling to play here! This is my ninth Olympiad already and I'm really enjoying it.
- The last time we had the opportunity to conduct an interview was in Sochi last year, and since then so many things have changed… As far as I know, you haven't played in any tournaments since. What was happening the past year? In which ways has your life changed?
Yes, that's true. In March 2015 I stopped, or rather paused my chess career, because I started working in the Lithuanian Parliament; that has dominated my life all this time. I haven't played any tournaments since, simply because there was no option, no time. I also think this Olympiad will be a one-time thing; I'm not planning to come back to chess professionaly in the nearest future. I'm fully busy with my work, and right now it's even election time, which makes this period extra-busy. But it's an interesting career and I'm enjoying it, but of course I really miss chess!
- Does chess help you in your political career? How often do you think about chess in general?
It's hard to forget about chess, as my husband (ed: Danish Grandmaster Peter Heine Nielsen) is Magnus Carlsen's trainer, so we have chess very much at home! As for your first question, yes, chess has been a help in many things; I'm used to thinking hard about things. But sometimes it also makes some things more difficult, so I'd say it's a mixture: there are plusses and there are minuses.
- Do you still follow the tournaments, live games online? And if yes, how do you manage to combine that with your duties?
I don't follow the games as much as I used to, of course, but I will definitely follow the upcoming World Championship match. I still follow the most important tournaments, as well as my favorite players… I try to keep in touch, because chess is such a huge part of my life!
- Tell us a few words about your game today, as well as the match.
Well, I think we are winning the match, maybe 3-1 or even more (ed: it was 3.5-0.5 after all), so this is going to be a good result for us. Our team generally started quite well, and I am very happy that Deimante Daulyte, our second board, is doing extremely well. It's generally hard to predict how it will go till the end, but I think we have all the chances to do well.
- A few days ago I had an interview with Dana Reizniece-Ozola, and she said that her participation here attracted a lot of attention in the media of her home country, Latvia, raising awareness of the presence of their team here in Baku. So what about you and your participation here? Do the Lithuanian media follow it? And how about you? Do you actively try to attract the attention of the media and the government to chess and the problems connected to it?
I certainly do try to make sure the media know we are playing here, to give this extra boost of attention. I think it is great that chess is receiving such attention, it's really good, especially for women's chess. So yes, there is attention, but I am also involved in various other chess-related projects. For example, a week ago we had a huge chess festival in Vilnius, with more than one hundred people playing simultaneous exhibitions. I'm hoping that there will be more and more such events, and as much as I can find time I get involved with such efforts in Lithuania.
- What about the Chess In Schools program, which FIDE is trying to promote in all countries? is it a topic of discussion in Lithuania?
Yes, very much so, and last year, when I started to work in the Parliament, one of the first things I arranged was a conference on Chess In Schools. In general, the outlook on this program is very positive; I think it's probably just a matter of some time to implement this program, and probably sooner rather than later.
- This is great news! Now, you mentioned you've been to many Olympiads before. What can you say about this particular one? What do you think about Baku?
Baku is a lovely city, I've been here already before, I played here in 2007. The Olympiad of course is really impressive: the playing conditions are great, there is a lot of space, you can see all the players… And well, the Olympiad is not only about chess, but also a social event, and I think that in Baku we have a great mixture of both, so I'm really enjoying it!
- Before letting you go, I cannot help but mention that you also have three children! You're a working mother, very busy but also pursuing what is at the moment a very interesting hobby – chess! How do you manage to deal with all these duties successfully?
Well, sometimes it's not easy, but… You know, it's fun having a lot of things in your life, because it helps you manage and achieve more. I have three sons, the youngest is only two years old, so it's not so easy to leave home for a long time, but… That's life!
- Thank you so much for joining us, and we wish you good luck in all aspects of your life!
---
---
Follow us on Twitter @AzerNewsAz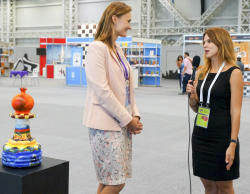 Related News