7 September 2018 11:12 (UTC+04:00)
3 838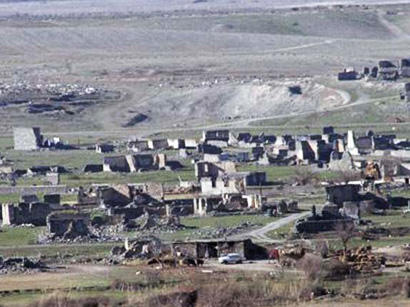 By Sara Israfilbayova
A seminar entitled "Issue of the historical monuments in the occupied territories of Azerbaijan and the problems of its delivery to the world community" was held in Azerbaijan on September 6.
Addressing the event, MP Elman Nasirov noted that today, along with the occupation of our lands, the country's material and historical monuments are facing the occupation.
"Destruction of Azerbaijani monuments by Armenians is vandalism. We must convey this vandalism to the world community. The world community should know the truth about Azerbaijan's Nagorno-Karabakh conflict, as well as its historical monuments," Nasirov underlined.
The MP added that tourists coming to Azerbaijan should also be informed about the destroyed monuments.
Taking his turn, Doctor of Philosophy Azad Zeynalov said that today dozens of monuments of Azerbaijan are under occupation. One of them is the Azikh cave, the oldest inhabited place in the former USSR, with a universal history.
He went on to say that the international conventions, archaeological investigations cannot be carried out in the historical monuments located in conflict zones, adding that unfortunately, Armenia ignores the international conventions it joins, making illegal archaeological investigations in our monuments and attracting foreign scientists to the researchers.
During the Nagorno-Karabakh war in early 1990s, the Armenians seized 20 percent of Azerbaijani territory, and all the monuments in those lands are now under Armenian occupation.
Many cemeteries, mausoleums, monuments, mosques, temples, burial mounds and other samples of Azerbaijan's cultural heritage in the occupied Nagorno-Karabakh, Lachin, Kalbajar, Aghdam, Fuzuli, Jabrayil, Gubadli and Zangilan regions are being destroyed.
Overall, since the beginning of the Nagorno-Karabakh conflict and occupation of Azerbaijani territories, Armenian aggressors ruined 1,200 historical and architectural monuments, looted 27 museums and exported to Armenia over 100,000 items. Moreover, the Armenian occupiers destroyed 152 religious monuments and 62 mosques, as well as 4.6 million books in 927 libraries.
In 2005 and 2010, the OSCE fact-finding missions confirmed Armenia's vandalism against Azerbaijan's Islamic heritage in the occupied Azerbaijani territories.
Category News