Gabala named Int'l Jam Capital [PHOTO]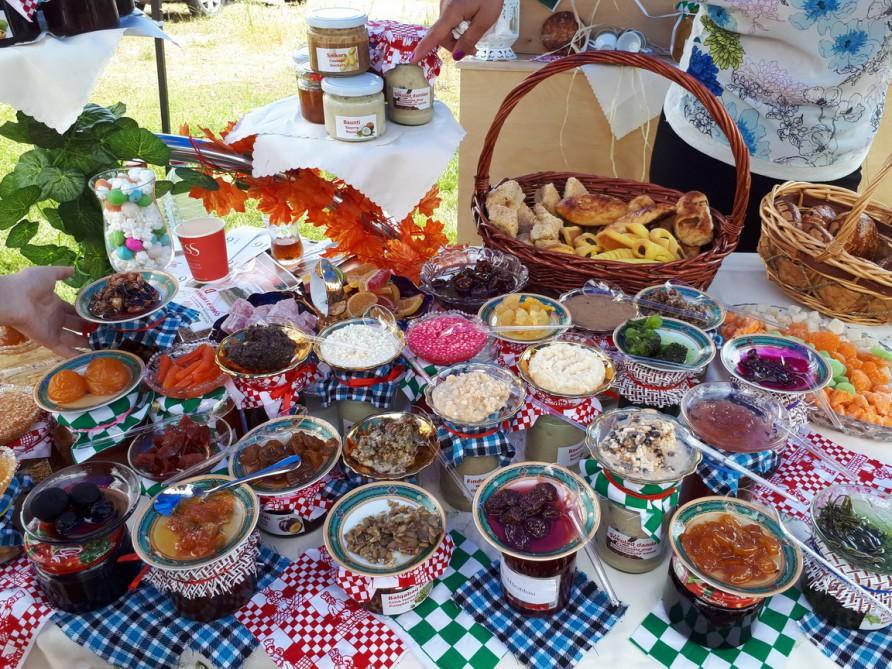 By Laman Ismayilova
Gabala, a charming part of Azerbaijan, has been named the International Jam Capital.
President of the World Culinary Organization, Thomas Gugler presented the corresponding certificate to Sabuhi Abdullayev, the head of the Gabala Region Executive Power.
Last weekend, Gabala hosted the fifth edition of the International Jam Festival, featuring the most delicious jams and marmalades from a number of the countries.
This year's jubilee festival has set a unique record: more than 3,500 jams from 25 countries, including 45 cities and regions were presented at the festival.
In addition to the traditional types of jams, such as strawberries, apricots, plums, blackberries, quince, cherries, and other commonly-used fruits, the chefs presented very exotic ones.
Chefs from Russia Perm city surprised festival's guests with the jam made of yellow berries and acorns.
Alexei Petrov, President of the Parma Culinary Association said that yellow berry, which grows in wetlands of Russian's northern regions, gives a yield for 4 to 6 years.
Exotic jams brought from Iran were also met with great interest. The chefs of the neighboring country presented extraordinary jams made of potatoes, tomatoes and eggplants.
Sweet lovers also enjoyed jams made of peppers, ginger, mint, peppermint, pumpkin, rosemary, beetroot and other unusual ingredients.
Even jury members avoided evaluating some types of jams due to lack of other examples to compare them. For example, the Malaysian stands featured jams of karkade and roselle, know as Mecca flower.
Azerbaijani chefs were able to surprise the guests with jams made of tomatoes, hawthorns, and acacia flower. Delicious fruits jams left no one indifferent.
Head of the Croatian Master Chefs Association, Eric Glavica, said that he liked the watermelon jam of Azerbaijani chefs. The professional jury praised mulberry jam from Shabran region, blackberry jam from Mingachevir and rose jam from Baku.
Apart the sweet jams, guests also enjoyed Azerbaijani folk music and tasted the national cuisine.
An unforgettable excursion to the famous sights of Gabala region was organized for foreign guests. The impeccable beauty of Nohur Lake, surrounded by forested hills, the magnificent views of Tufandag, and the stones of the ancient artifacts of Gabala State Historical-Artistic Reserve, which has witnessed the history of Caucasian Albania, surprised the tour participants.
President of the Parma Culinary Association was impressed by the hospitality of the Azerbaijani people.
"This is my first visit to Azerbaijan and my impressions are very rich. Our team has participated in many specialized events abroad, but we have never seen such attention and care from organizers and local residents. I would like to thank the Azerbaijani government for organizing the jubilee jam festival in Gabala," he said.
Presentation of the stamps, featuring the 'kings' of the Azerbaijani cuisine – dolma, pilaf and piti was another remarkable event of the fifth International Jam Festival. Now these stamps will be a dream of philatelists from all over the world.
---
Laman Ismayilova is AzerNews' staff journalist, follow her on Twitter: @Lam_Ismayilova
Follow us on Twitter @AzerNewsAz