Chess players vs journalists in Shamkir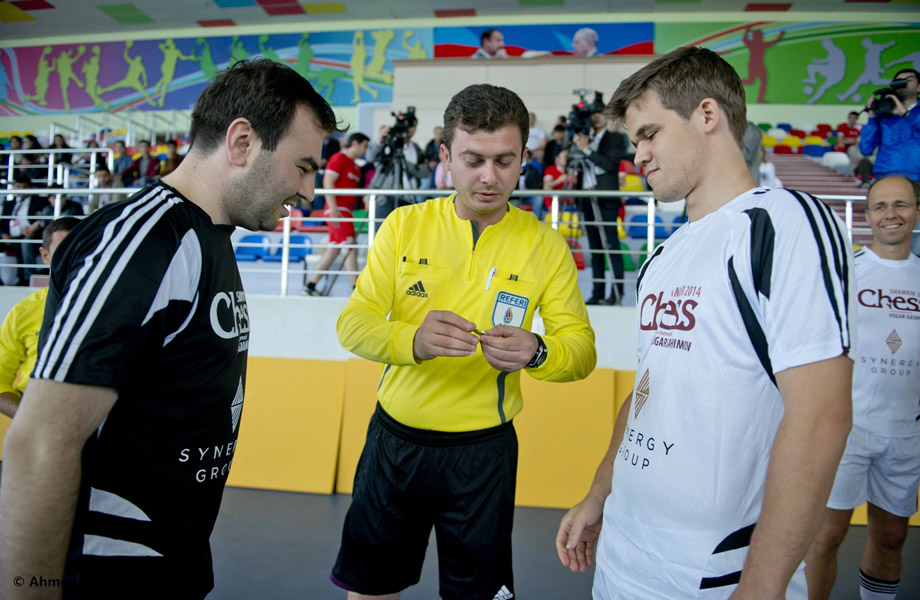 By Nazrin Gadimova
An interesting football match has been held within the framework of the Shamkir Chess 2014 international chess tournament, which is dedicated to Azerbaijan's famous grandmaster Vugar Gashimov.
The world team, which included Norwegian chess champion Magnus Carlsen, who scored four goals, won in the final, leaving behind Synergy Group team.
In the match for the third place, Azerbaijani journalists' team defeated chess players of the Azerbaijani team.
Moreover, within the framework of the international chess tournament, Shahriyar Mammadyarov, Teymur Rajabov and Sergey Karjakin played simul with children on 12 boards at the "Zaka" Youth Center.
Karjakin and Rajabov won three games and one of the games ended in a draw. Shahriyar Mammadyarov played in a draw in all games. Then players visited the Flag Square and Flag Museum, where they familiarized with the exhibits on ancient and modern history of Azerbaijan.
Shamkir Chess 2014 opened in the Heydar Aliyev Center on April 19 and will run until April 30.
The event, organized by JSC Synergy Group, is being held as part of the "State Program on development of chess in Azerbaijan in 2009-2014". It is dedicated to world-famous Azerbaijani grandmaster Vugar Gashimov who passed away as a result of a serious disease in January.
Money prize of the A tournament, sponsored by "Synergy Group" is 100,000 euros, while the prize fund for this tournament will be 30,000 euros.