Pakistani university attacked, at least 7 dead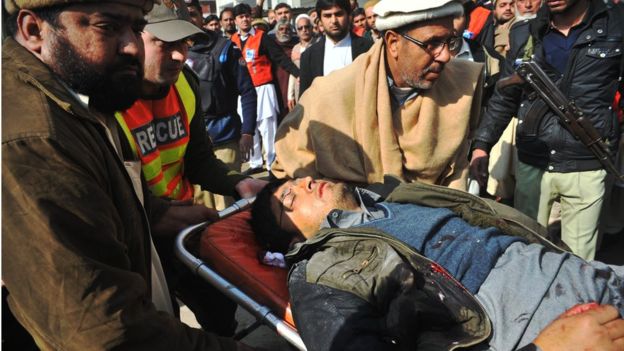 A university in the northwest of Pakistan has come under attack by armed militants, and at least seven people have been killed, with a further 20 injured, an official told CNN. It's not yet clear how many of the dead are attackers and how many are civilians but the death toll is expected to rise.
Gunfire and explosions were heard Wednesday morning local time from within Bacha Khan University in Charsadda, northwestern Pakistan, CNN reported.
There are still dead inside and the operation is ongoing, Bilal Faizi, a local emergency service spokesman told CNN.
Lt. Gen. Asim Bajwa, an army spokesperson, said on Twitter that four attackers had been killed and that government troops had resumed control of all buildings and rooftops.
There have so far been no claims of responsibility.
Two of the university attackers have been killed by security forces, Saeed Khan Wazir, Deputy Inspector General (DIG) of Police, of the Mardan Range region told CNN.
There are fears that the remaining attacker or attackers are holding hostages within the campus grounds.
Pakistan Army soldiers have entered the university, according to Geo News, citing a reporter on the scene.
University faculty, administrative staff and students are in the university grounds. Five injured people have so far been evacuated from the campus, the report states, but none of the 3,000 students and 600 guests on the university campus have been injured, according to Pakistani media, citing an audio message released by Fazal Rahim Marwat, vice-chancellor of Bacha Khan University.
"Security forces are present on site and are combating the terrorists in a gunfight, but as yet are not sure how many terrorists are holed up inside the university," Geo News reported
A heavy contingent of officers is currently taking part in an operation against at least three suspected militants, who are reportedly hiding out in different parts of the campus.
Bajwa, the army spokesperson, earlier tweeted that the attackers have been contained within two blocks of the university and operations are ongoing, and also said on Twitter that the Army was conducting air surveillance above the university.
---
Follow us on Twitter @AzerNewsAz