Kazakhstan to join WTO officially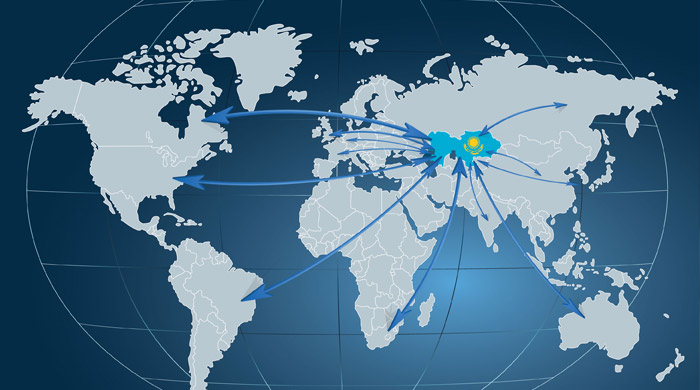 By Vusala Abbasova
Kazakhstan has finalized its entry to the World Trade Organization after 19-year-long accession process through preserving its national interests in the most sensitive issues for country's economy.
Kazakhstan has managed to fulfill the requirements of both the WTO and the EEU based on the national interests, President Nursultan Nazarbayev stressed.
Nazarbayev stressed that Kazakhstan will have to compete with other fellow countries not only within the EEU, but also the WTO, which accounts for 90 percent of country's overall trade.
"Entry to the WTO is a victory for Kazakhstan and recognition of the country an integral part of the global economic system," Nazarbayev said.
The full membership will enable Kazakhstan to successfully integrate into the global community as a reliable trade partner with a favorable and transparent investment and business climate.
The country will obtain new consumption markets for the Kazakh products and improve competitiveness, that will ultimately modernize the national economy.
Nazarbayev noted that the integration into the global economy will contribute to entering the top 30 countries and implementing the Plan of the nation "100 concrete steps".
Full membership in the international trading system will also play significant role in the realization of Strategy 2050 program that could turn Kazakhstan into one of the 30 most competitive nations in the world by 2050.
Kazakhstan is also implementing a New Silk Road program to construct the largest and most modern road and railways passenger and cargo transportation system in Central Asia. This will make the country the key crossroads for trade between Western Europe and the great industrial economies of China and the rest of Northeast Asia.
The construction of such major road and rail infrastructure here cements its natural geographical position and serves the interests of China and Europe, as well as those of Kazakhstan.
Member countries of the Working Group on Kazakhstan's accession to the WTO approved the final package of documents on entry at the final meeting on June 22, 2015 reported the Secretary of the Kazakhstan minister for economic Integration.
Kazakhstan will become this December a full member of the international organization, regulating 98 percent of all world trade.
The results of reforms, carried out by Kazakhstan in order to bring its legislation in conformity with WTO norms, indicate that Kazakhstan's trade policy with its major partners is well in place.
The member countries of the Working Group, as the United States, European Union, Russia, China, India, Japan, Republic of Korea, praised work done by Kazakhstan in this sphere.
Currently, 161 of 193 UN member states use the WTO rules in implementing economic and trade policy, while 23 countries are in the process of negotiations over the WTO accession.
Kazakhstan first submitted its application for WTO membership back in 1996.
Among other post-Soviet countries only Azerbaijan, Turkmenistan and Uzbekistan are still waiting for their entry to the WTO.
---
Follow us on Twitter @AzerNewsAz