Kazakhstan's Nazarbayev rejects rumors about devaluation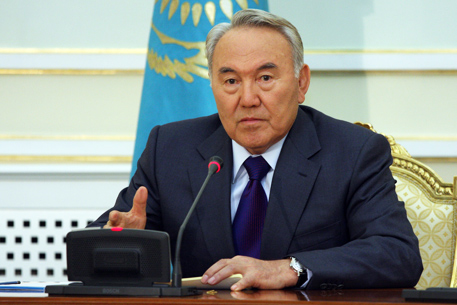 By Sara Rajabova
Kazakhstan's newly-elected president has dismissed baseless reports regarding the devaluation of the national currency.
Nursultan Nazarbayev, who gained a landslide victory in April 26 presidential elections, said at a press conference that no plans for the devaluation of the national currency have been scheduled, Kazakh media reported.
"But we are working on a freely floating exchange rate of the tenge. But it will be no earlier than 5 years," he said.
Although Kazakhstan hasn't experienced devaluation in February against fears it would, rumors have persisted. Many Kazakh analysts predicted another devaluation of the currency after the presidential election in the country.
Fitch Ratings in its April 8 report said there was a possibility for further devaluation after the presidential election. Nazarbayev said it was due to the fluctuation of the Russian ruble and the weight of Russia's economy on its neighbors.
"Now, as you can see, it's stable, no such devaluation has been scheduled and I do not see the conditions for this," Nazarbayev said.
Earlier, the Kazakh authorities have promised to prevent any sharp fluctuations in the national currency.
The sharp drop in oil prices, as well as Russia's economic recession greatly affected the outlook for Kazakhstan's economic growth as well as its external and fiscal imbalances.
Rumors of devaluation have increased in February as the tenge devalued twice in the last six years, both times in February. The Central Asian economy experienced a 22 percent devaluation of its currency in February 2009 and then a one-step 19 percent devaluation of its currency in 2014, also in February. However, the government managed to prevent the tenge's sharp devaluation, which could have dramatically worsened the economic situation in the country.
--
Sara Rajabova is AzerNews' staff journalist, follow her on Twitter: @SaraRajabova

Follow us on Twitter @AzerNewsAz