Iran's Zarif, EU's Ashton meet ahead of new round of nuclear talks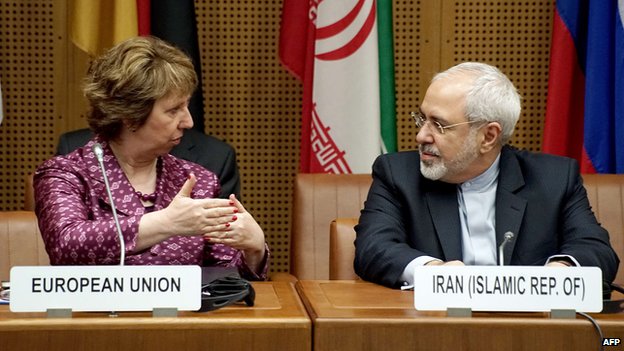 By Sara Rajabova
Iranian Foreign Minister and EU foreign policy chief has reviewed the latest developments on the talks between Iran and the six major world powers over Tehran's nuclear energy program.
Mohammad Javad Zarif and Catherine Ashton met on September 17 in New-York ahead of a new round of nuclear talks between Iran and the five permanent members of the UN Security Council plus Germany, Iranian media reported.
The seventh round of nuclear talks between Iran and the P5+1 after two months started by Zarif and Ashton's working launch.
The two sides also discussed how to continue the negotiations to reach a final deal on nuclear dispute between the West and Iran.
The new round of talks between Iran and the P5+1, which aim to narrow the remaining gaps and finalize a nuclear deal between the two sides, will officially begin on September 18.
The negotiations will be held on the sidelines of the 69th Session of the United Nations General Assembly.
Prior to the talks, Zarif expressed optimism over the achievement of a final nuclear deal with the six world powers, but stressed that it would require a lot of work and a lot of hard discussions.
One of the main issues of disagreement between the West and Iran is the number of centrifuges that Tehran possesses.
Wendy Sherman, who heads the U.S. delegation in nuclear talks with Iran, announced prior to the talks that the current number of Iran's active centrifuges is unacceptable.
The West wants Iran to have single-digit thousands of active centrifuges, meaning it would take Tehran a long time to use them for producing high-level enriched uranium for nuclear weapon. Tehran who maintains 19,000 centrifuges has rejected reducing the number of active enrichment machines.
Last November, Tehran and the six countries signed an interim deal in Geneva, which took effect on January 20 and expired six months later. In July, Iran and the six countries agreed to extend negotiations until November 24 this year after they failed to reach common ground on a number of key issues.