Kyrgyzstan to join Customs Union by year-end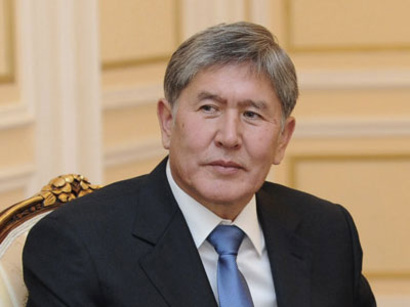 By Aynur Jafarova
Kyrgyzstan is planning to join the Customs Union of Belarus, Kazakhstan and Russia by the end of this year.
This remark was made by Kyrgyz President Almazbek Atambayev at a meeting with his Russian counterpart Vladimir Putin in Sochi on August 11, the Russian presidency reported.

"We certainly would like to join the Customs Union and the Eurasian [Economic] Union by the end of this year," Atambayev said. "Kyrgyzstan is actively working to meet this goal."

He also noted Russia is Kyrgyzstan's strategic ally and Kyrgyzstan firmly intends to develop and strengthen bilateral relations between the countries.

"We have serious investment plans, especially in the energy sector, and plan to develop cooperation in a number of sectors," Atambayev said.
The Customs Union was established in 2010. The purpose of the organization is to form a single customs territory within which no customs duties or economic restrictions are applied. The Single Economic Space of the Customs Union started operating on January 1, 2012.

Earlier Kyrgyz Prime Minister Djoomart Otorbayev said unlike some of his political opponents, he endorsed the idea of the country's joining the economic union of Belarus, Kazakhstan and Russia.
"Conceptual question here is whether we are creating an open economy or isolating ourselves from our most important economic partners. But we are initially creating an open economy, and we believe that to erect barriers to our main foreign economic partners is fundamentally wrong approach."
He noted the major advantage of this step is a fundamental improvement of investment climate in the country.
"Kyrgyzstan is open to the enterprises interested not only in its domestic market but also in Customs Union countries' markets," he said.