China, Kazakhstan to promote co-op in various fields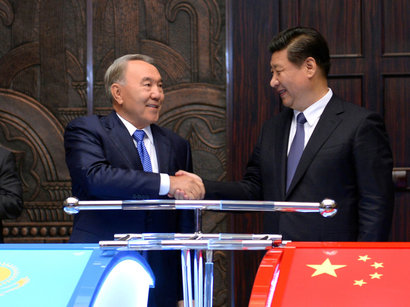 By Aynur Jafarova
China and Kazakhstan will jointly promote cooperation in trade, energy, infrastructure, and environmental protection.
This was noted in a joint declaration adopted by Kazakh President Nursultan Nazarbayev and Chinese President Xi Jinping on May 19.
Nazarbayev is on a visit to China to attend the 4th summit of the Conference on Interaction and Confidence Building Measures in Asia (CICA).
The two countries also agreed to take measures to boost the bilateral to $40 billion in 2015.
China and Kazakhstan will strengthen security cooperation and pay close attention to the Afghan situation as well.
The joint declaration also said the two countries will further strengthen their political mutual trust, promote reciprocal cooperation, consolidate friendship, achieve common development and prosperity and to strengthen their cooperation within regional and international organizations.
As part of the visit the Kazakh and Chinese presidents also signed a Memorandum of understanding and cooperation between Kazakhstan's Samryk-Kazyna and Chinese CITIC Group Corporation, a Memorandum of understanding with Chinese Eximbank to finance the project of Petro Kazakhstan oil products LLP, a basic agreement on allocation of loans worth $500 million and a framework agreement between KazMunaiGas and CNPC on construction of plant on production oil and gas pipelines.
The Chinese - Kazakh relations have enjoyed rapid development since the establishment of diplomatic relations. China is the largest trading partner of Kazakhstan and Kazakhstan is China's second largest trading partner in the CIS region after Russia.