Iran starts construction of new chemical plant despite sanctions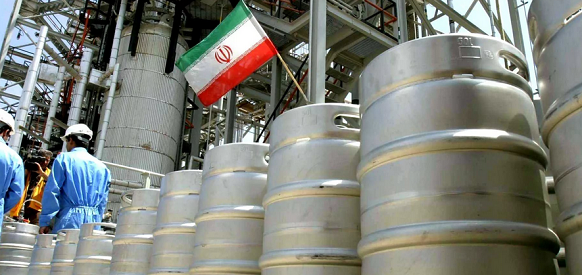 By Abdul Kerimkhanov
Despite the sanctions imposed against the export of Iranian oil, and consistently, the decline in oil exports, the sanctions imposed did not affect the export of petrochemical products.
An Iranian member of parliament said that completing the construction of an ethylene oxide plant in the southwestern Iranian city of Andimeshk would prove the ineffectiveness of U.S. sanctions against Iran.
Fereydun Hassanwand, who also chairs the parliamentary committee on energy, stated that sanctions are an unfair means of bringing Iran's oil exports to zero, which failed, Iranian media reported.
Speaking at the groundbreaking ceremony for the project, the deputy noted that the current start of this project is an indicator of the failure of the U.S. sanctions policy.
The deputy added that today, Iran export oil and invest in the industry.
A ceremony was held in the city, in the presence of Iranian Oil Minister Bijan Zangeneh and a number of members of parliament and local officials, which laid the foundations for starting the construction of the plant.
A plant with a capacity of 300,000 tons per year will pave the way for the construction of subsequent projects.
Over the past six years, and due to the completion of several stages at the South Pars gas field, Iran has acquired an abundance of ethane and ethylene production capacities that can be consumed by petrochemical plants.
The Andimeshk Petrochemical Project will be completed within 36 months and will be provided with ethylene produced at the South Pars gas field, the world's largest natural gas field, located in the waters of the Persian Gulf and shared with Qatar.
The plant will produce ethoxylates, glycol ether and ethanolamine, and these items will be used as raw materials for hygiene products, detergents and additives in the textile, cement, sweetening, gas processing and petrochemical industries.
It is expected that to complete the project will require an investment of $ 388 million.
During the period of sanctions, one of the resources of Iran's foreign exchange earnings was the petrochemical industry. The Iranian petrochemical industry has a variety of properties that attract Iranian and foreign investors. The most important feature of the industry is the presence of rich oil and gas resources to provide the necessary raw materials from the petrochemicals production.
Iran ranks 4th in the world in terms of oil resources and uses the second largest gas reserves in the world.
An important feature of Iran's petrochemical industry is country's excellent geographical location and good access to Asian and European markets, as well as free seas, which makes it easier and cheaper to export and transport.
Iran is the only state in the Middle East that produces a large amount of necessary equipment for the petrochemical industry on its territory.
---
Abdul Kerimkhanov is AzerNews' staff journalist, follow him on Twitter: @AbdulKerim94
Follow us on Twitter @AzerNewsAz