Uzbekistan, Turkey will hold first Strategic Cooperation Council meeting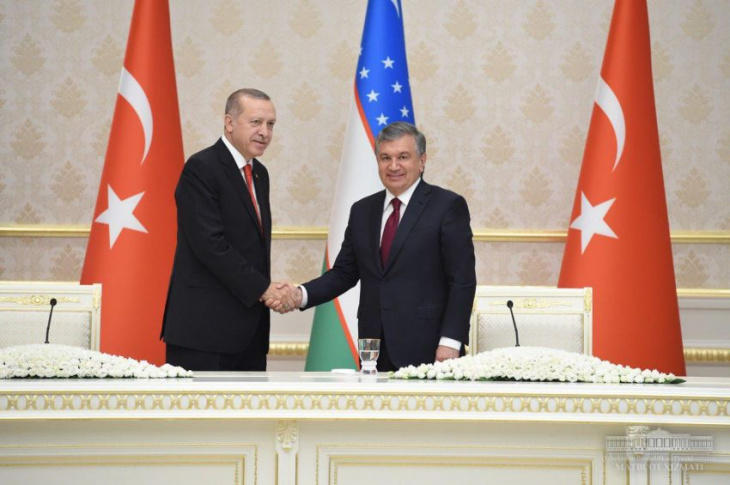 By Abdul Kerimkhanov
Uzbekistan and Turkey will hold the first meeting of the Strategic Cooperation Council, chaired by the presidents of two countries in 2019, Uzbek media reports.
This was announced during the meeting of the Minister of Foreign Affairs of Uzbekistan, Abdulaziz Kamilov, and the Ambassador of Turkey, Ahmet Bashar Shen, who is completing a diplomatic mission in Uzbekistan.
"During the conversation, topical issues of the Uzbek-Turkish agenda were discussed. It was emphasized that the exchange of visits at the highest level in 2017 and 2018, their results gave a new dynamic to bilateral cooperation across the entire spectrum of relations," the press service of the Foreign Ministry said.
The sides also exchanged views on the schedule of upcoming other bilateral meetings at various levels.
The agreement on the council creation was concluded during a visit of Recep Tayyip Erdogan to Uzbekistan in May 2018.
Turkey today is one of the important trading partners of Uzbekistan. The volume of trade between the two countries increased by 30 percent and amounted to $ 1.5 billion in 2017.
The parties during Erdogan's visit agreed on specific measures aimed at bringing this figure to $ 5 billion in the coming years.
Uzbekistan is ready to expand the supply of products of light, chemical, metallurgical, engineering, electrical industry, leather and footwear and agricultural products to the Turkish market.
The main export items from Uzbekistan to Turkey are non-ferrous metals and products from them, fruits and vegetables, services, nitrogen fertilizers, and refined products.
Uzbekistan, in turn, imports from Turkey cosmetics, various mechanical and electronic equipment, plastics and products from it, textile, chemical, pharmaceutical products, means for tanning and dyeing leather.
Over the seven months of 2018, Turkey came out on top in terms of the number of new foreign enterprises in Uzbekistan. Some 147 enterprises were established with the participation of the residents of Turkey.
There are currently about 500 companies in Uzbekistan with Turkish capital, 100 of which are representation offices. They carry out activities in the sectors of textile, food, hotel management, building materials, plastic, medication, and services. The investments of the Turkish side in the economy of Uzbekistan are about $ 1 billion.
There are 114 companies in Turkey with Uzbek capital. Only last year more than 20 enterprises with the participation of Turkey's investments were organized and 53 companies were accredited in Uzbekistan.
---
Abdul Kerimkhanov is AzerNews' staff journalist, follow him on Twitter: @AbdulKerim94
Follow us on Twitter @AzerNewsAz