SOFAZ to further invest in ruble, lira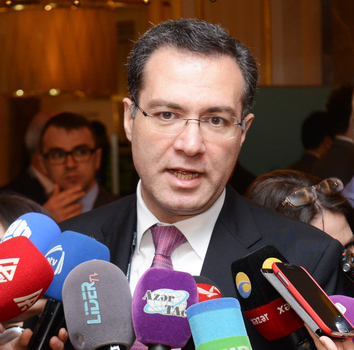 By Gulgiz Dadashova
Azerbaijan's state oil fund SOFAZ, will further invest in both the Russian and Turkish currency - respectively the ruble and the lira, despite their devolution.
SOFAZ head, Shahmar Movsumov said investing in the Russian ruble and Turkish lira are strategic moves.
"They are long-term moves and do not depend on the value of these currencies," Movsumov said last week. "Therefore, we will continue to invest in them."
As part of SOFAZ's investment policy, up to 50 percent of all assets are in USD, up to 35 percent in euros, up to five percent in British pounds, and the remaining 10 percent in other currencies, including the Russian ruble, the Australian dollar, Korean Won and Turkish lira.
SOFAZ already agreed with the Chinese government to invest 3 billion Chinese Yuan renminbi (nearly $500 million).
He further added that SOFAZ's assets declined to $34.93 billion as of April 1 from $37.1 billion at end-2014.
The Fund's revenues in the first quarter amounted to 2,028 million Azerbaijani manats, while expenses stood at 2,335.6 million manats.

The revenues from realization of oil and gas contracts stood at 1,938.9 million manats, including the revenues from the sale of the profit oil and gas - 1,936.3 million manats, and the revenues from transit operations - 2.6 million manats.

SOFAZ's revenues in the reporting period from the management of its own funds totalled 89.1 million manats.

Movsumov noted that SOFAZ's non-budget revenues from rate difference in Q1 totaled 7,488.7 million manats.
SOFAZ spent 307.4 million manat on the Southern Gas Corridor project to pipe natgas from BP-led Shah Deniz field in the Caspian Sea to Turkey and Europe. Also 3.9 million manats were directed to finance the construction project of the new Baku-Tbilisi-Kars railway.
In SOFAZ's expenses, transfers to the state budget amounted to 1,941.7 million manats.
SOFAZ was established in 1999 to manage Azerbaijan energy incomes, the largest oil producer in the former Soviet Union after Russia and Kazakhstan.
Under SOFAZ's regulations, its funds may be used for the construction and reconstruction of strategically important infrastructure facilities, as well as solving important national problems.
--
Follow Gulgiz Dadashova on Twitter: @GulgizD
Follow us on Twitter @AzerNewsAz