Italy to release authorization for TAP by May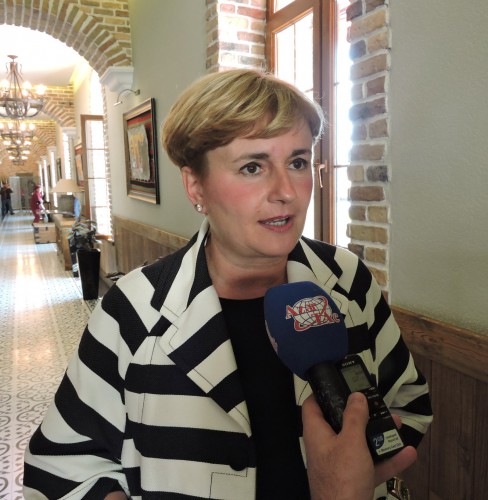 By Nigar Orujova
The Italian government will give its final authorization for the Trans Adriatic Pipeline by this May, said Federica Guidi, the Italian minister of economic development during her visit to Baku on April 15.
"We are at the last stage of the final approval," Guidi officially confirmed to Azertac state news agency.
"This is a very important and strategic project for us. Energy, of course, is one of the most significant issues on our agenda in Italy and Europe," she said. "TAP is a very important part of this new plan for the energy diversification in terms of routes and supplies. We will certainly continue to try to promote our industries and create more options for collaboration with Azerbaijan in this field."

The minister hailed the signing of an agreement by Italian Marie Technimont and Azerbaijan's SOCAR Polymer.
"It is a great example of how to create collaboration with some major Italian contractors in order to establish a new plant for new strategic products," Guidi said. "We are trying to push, of course, most of our companies to be not only contractors, but also to establish long-term collaboration with their partners in Azerbaijan."
The Italian minister also highlighted bilateral trade. "Of course, the import between Azerbaijan and Italy is now mainly focused on oil. I think it will also be focused on gas in the future. We would like to try to boost this cooperation, promoting some more actions and some more opportunities for the exports from Italy to Azerbaijan."
Lauding the role of the Italian Trade Promotion Agency in assisting Italian companies, she said: "We have done a very good job all around the world. The Italian Trade Promotion Agency is one of the important instruments available for companies, which is launched by our government."

Guidi also said that during her visit the two countries discussed ways of reinforcing "our collaboration in strategic sectors like oil and gas". "We also evaluated and put in place some future collaboration in many other sectors apart from oil and gas."
The minister said Italy has big a wealth of experience when it comes to technology. "We would like to listen to the new opportunities that Azerbaijan will offer our industries."
The Italian delegation in Baku attended the Azerbaijan-Italy business forum and met with high officials.
At the meeting with president of the Azerbaijan State Oil Company Rovnag Abdullayev, head of the delegation Guidi emphasized the importance of TAP for Europe.
The Italian minister also hailed the role of the Southern Gas Corridor project in strengthening the ties between Azerbaijan and Italy.

Abdullayev hailed cooperation between SOCAR and Italian companies as close. He expressed confidence that Italian companies would be actively involved in the projects carried out by SOCAR in Azerbaijan and foreign countries.
--
Nigar Orujova is AzerNews's staff journalist, follow her on Twitter: @o_nigar
Follow us on Twitter @AzerNewsAz