Digging ops to be launched within TANAP project this year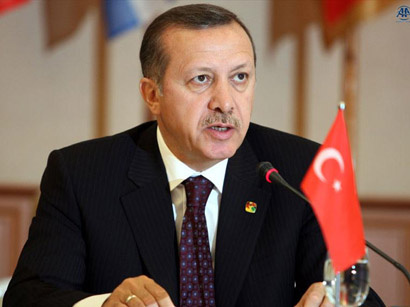 The Turkish and Azerbaijani Parliaments have ratified the agreement on the construction of Trans-Anatolian gas pipeline (TANAP). The digging operations are expected to be launched within this project, Turkish Prime Minister Recep Tayyip Erdogan said at a meeting with Slovak Prime Minister Robert Fico on Wednesday, TRT Haber TV channel reported.
TANAP project envisages gas transportation from Shah Deniz field to Europe via Turkey. The initial capacity of the pipeline is expected to reach 16 billion cubic meters per year. Around 6 billion cubic meters will be delivered to Turkey, and the rest - to Europe.
Erdogan also said that no progress is observed in Nabucco West project implementation. The EU does not take any significant actions to reach progress in this issue.
Nabucco-West envisages the construction of 1,300 km of pipeline (Bulgaria: 412 km, Romania 469 km, Hungary 384 km, Austria 47 km) from the Turkish-Bulgarian border to the Austrian Baumgarten. Gas to be produced during the second stage of Shah Deniz field development is considered as the main source for the project.
The shareholders are the Austrian OMV, Hungarian FGSZ, Bulgarian Bulgargaz, Romanian Transgaz, Turkish Botas and German RWE.
In June, 2012 the consortium of Azerbaijani Shah Deniz gas field development chose Nabucco West as the single pipeline option for the potential export of Shah Deniz Stage 2 gas to Central Europe.
The final decision is expected to be made in June 2013.