Azerbaijan invests more than $8B in Southern Gas Corridor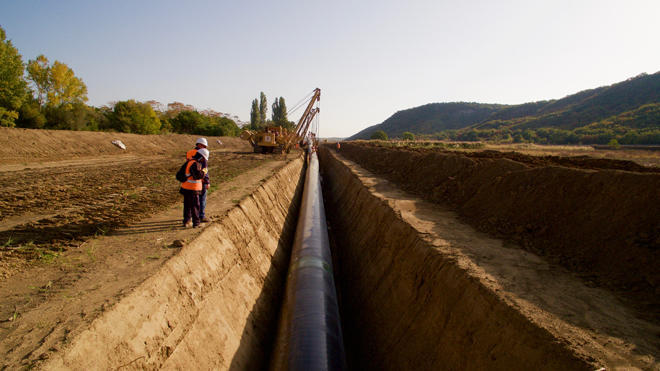 By Sara Israfilbayova
As of December 8, 2017, South Gas Corridor CJSC has invested $8.4 billion (or 72 percent) of the total of $11.7 billion (total funding needs in 2014-2020) in financing its equity participation in the project.
The CJSC told Trend that regarding the possibility of issuing Eurobonds, as of today the company does not intend to issue any further Eurobonds in 2017 or early 2018.
The Southern Gas Corridor, worth $41.5 billion, is one of the priority projects for the EU and provides for the transportation of 10 billion cubic meters of Azerbaijani gas from the Caspian region through Georgia and Turkey to Europe.

At the initial stage, the gas to be produced as part of the Stage 2 of development of Azerbaijan's Shah Deniz field is considered as the main source for the Southern Gas Corridor projects. Other sources can also connect to this project at a later stage.

As part of the Stage 2 of the Shah Deniz development, the gas will be exported to Turkey and European markets by expanding the South Caucasus Pipeline and the construction of Trans Anatolian Natural Gas Pipeline (TANAP) and Trans Adriatic Pipeline (TAP).
TANAP project envisages transportation of gas from Azerbaijan's Shah Deniz field to the western borders of Turkey. The gas will be delivered to Turkey in 2018 and after completion of the Trans Adriatic Pipeline's construction natural gas will be delivered to Europe in early 2020.
The length of TANAP is 1,850 kilometers, with an initial capacity of 16 billion cubic meters of gas. Around six billion cubic meters of this gas is meant to be delivered to Turkey, with the remaining volume to be supplied to Europe.
TAP will connect to the TANAP on the Turkish-Greek border, run through Greece, Albania and the Adriatic Sea, before coming ashore in Italy's south.
TAP will be 878 kilometers in length (Greece 550 kilometers, Albania 215 kilometers, Adriatic Sea 105 kilometers, and Italy 8 kilometers).
TAP's shareholding is comprised of BP (20 percent), SOCAR (20 percent), Snam S.p.A. (20 percent), Fluxys (19 percent), Enagás (16 percent) and Axpo (5 percent).
---
Follow us on Twitter @AzerNewsAz