Kapaz field awaiting determination of border states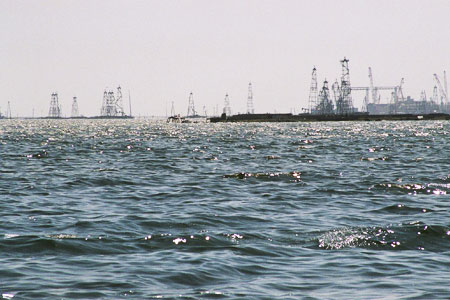 By Gulgiz Muradova
Azerbaijan and Turkmenistan, the two energy rich Caspian states, are yet to come to a determination over the development of Kapaz field.
Deputy Foreign Minister of Azerbaijan Khalaf Khalafov told reporters on December 12 that the two have not achieved any mutual accord over the issue so far.
"Relevant talks and consultations are held regularly. However, so far no accord has been reached," he said.
The field called Kapaz by Azerbaijan and Sardar by Turkmenistan was discovered by Azerbaijan in 1959 and an exploration drilling was commenced in 1986. Following the breakdown of the Soviet regime, Turkmenistan contested Azerbaijani ownership of Kapaz leaving the field undeveloped for years.
Under the agreement reached between Baku and Ashgabat in 2008, the sides agreed to suspend any exploration work at Kapaz field until all issues involving the field are resolved. Experts estimate reserves of the field at 50-100 million tons of oil and over 30 billion cubic meters of gas.
Both Azerbaijan and Turkmenistan export their energy resources from the Caspian Sea to Western and Asian markets, and are regarded as the key players in ensuring Europe's energy security.
The Caspian basin is extremely rich with oil and gas resources and has caused an uneasy relationship between all littoral states. The legal status has remained unsolved for over 20 years, preventing development and exploitation of its disputable oil and gas fields and creating obstacles to the realization of major energy projects.
Iran seeks an equal division of the Caspian into 5 even sectors, mainly because most of offshore energy resources are located away from the Iranian coastline. Azerbaijan and Kazakhstan reject the proposal on division of the seabed based on median lines,and instead backs giving each state a share proportional to its coastline length.
Turkmenistan also demands division of the Sea into equal parts between the pre-Caspian countries so that each country must have 20 percent of the sea.
Russian Foreign Minister Sergey Lavrov recently announced that Moscow expects that a convention on the legal status of the Caspian Sea will be signed at the fifth Caspian Summit to take place in Kazakhstan's Astana in 2017.
The EIA estimates that there were 48 billion barrels of oil and 292 trillion cubic feet (Tcf) of natural gas in proved and probable reserves within the basins that make up the Caspian Sea and surrounding area in 2012. The offshore fields account for 41 percent of total Caspian crude oil and lease condensate and 36 percent of natural gas. In general, most of the offshore oil reserves are in the northern part of the Caspian Sea, while most of the offshore natural gas reserves are in the southern part of the Caspian Sea.
--
Follow us on Twitter @AzerNewsAz