Azerbaijani, Armenian presidents want to intensify dialogue, James Warlick says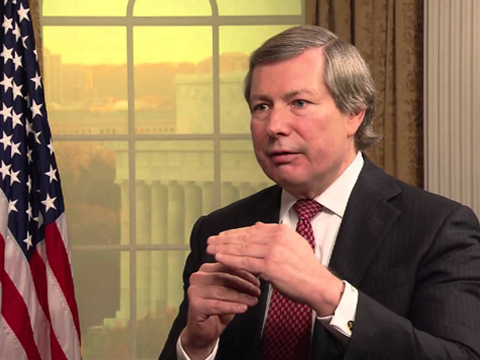 By Mushvig Mehdiyev
American co-chair of the OSCE Minsk Group said the presidents of Armenia and Azerbaijan - the Nagorno-Karabakh conflict parties - support frequent meetings.
In his interview with the Voice of America, James Warlick said both Azerbaijani President Ilham Aliyev and his Armenian counterpart Serzh Sargsyan are willing to meet more frequently.
"We have no date yet, but both presidents have declared they would like to intensify dialogue. We are looking for an opportunity now to organize such a discussion," he noted.
In view of the co-chairs' engagement, Warlick said: "The role of the co-chairs is to frame that discussion. The mediators hope to visit the region soon to prepare the meeting of the presidents."
Assessing the results of his recent meeting with President Sargsyan, Warlick expressed his belief that both President Sargsyan and President Aliyev are willing to solve the issue through negotiations.
"The conflict has claimed too many human lives. We want to put an end to this," the ambassador said.
On May 6, Warlick met with the Armenian president in Washington where they discussed the Nagorno-Karabakh peace, according to the co-chair's Twitter post.
The OSCE Minsk Group, in view of its brokering position in the Nagorno-Karabakh conflict, called on the belligerents to restraint from hostilities and to exert their best efforts in negotiating a solution to the conflict. An armed settlement to the twenty-year-long territorial dispute is completely excluded by the mediation group.
In their latest statement issued on April 30, the co-chairs - Igor Popov (Russia), James Warlick (U.S.), and Pierre Andrieu (France) stressed on the need for the presidents of Armenia and Azerbaijan to intensify dialogue. They urged Baku and Yerevan to boost peace talks in view of resolving the Nagorno-Karabakh conflict.
Azerbaijan's internationally recognized Nagorno-Karabakh territory became a conflict zone following Armenia's aggression in the early 1990s. As a result of Armenia's armed invasion, 20 percent of Azerbaijan's territory fell under Armenia's occupation. Nonetheless, the OSCE has attempted to foster a peaceful resolution to this conflict amid Armenia's persistent derailments.
- - -
Follow Mushvig Mehdiyev on Twitter: @Mushviggo
Follow us on Twitter: @Azernews