4 March 2015 15:11 (UTC+04:00)
1 951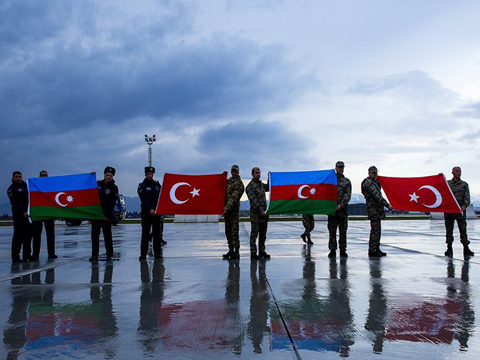 By Mushvig Mehdiyev
Turkish and Azerbaijani air forces started joint drills in Turkey's Konya region on March 3. The exercise turned to be remarkable as it is the Azerbaijani Air Forces' first ever attendance in a military drill abroad.
Six fighters and 106 personnel of the Azerbaijani Air Forces joined the ongoing drills TURAZ Sahini-2015 alongside their Turkish counterparts.
The drills that will last until April 2 are expected to see the active involvement of fighting jets MIG-29 and F-16 from the both air forces.
Azerbaijani Defense Ministry said TURAZ Sahini-2015 military training was organized as part of the plan for military cooperation between Azerbaijan and Turkey.
Three MIG-29 combat jets, three Su-25 fighters and a military transport aircraft Il-76 of the Azerbaijani Air Forces will reportedly take part in the drills.
Commander of Turkish Air Forces, Colonel Abdurrahim Arslan said 6 combat jets of MIG-29 and SU-25 types landed on the airbase in the first day of the drills, according to Turkish media outlet Anadolu Ajansi.
"It is a historical day. First we experienced drills in Azerbaijan last September. Now we are again feeling the delight of joint drills in between the two brother countries," Arslan noted.
Azerbaijani Air Forces Commander, Colonel Elchin Akhundov said he was very honored and glad to join the drills, namely in Turkey.
"Thanks, Turkey! Thanks for warm welcome and for a historical day. Azerbaijani Air Forces joined its first ever military exercises abroad in Turkey. We are very happy, we wrote history here," Akhundov added.
Earlier in September, the Turkish Air Forces joined large-scale military exercises in Azerbaijan, with a squad of over 30 combat jets to carry out joint missions with their Azerbaijani counterparts.
Furthermore, four Mi-17 military transport helicopters were dispatched to the air base in Konya to partake in the international search and rescue drills İSIK-2015.
ISIK-2015 exercises, which will last until April 13, will involve military equipment of the air force of several countries, along with Azerbaijani and Turkish forces, to carry out certain tasks on planning joint activities, exploring the possibilities of interaction and coordination during operations, as well as the search and rescue operations.
Azerbaijan-Turkey joint exercises serve primarily to test and reinforce planned joint activities of both countries' air force, explore the possibilities of joint actions and coordination in view of conducting combat operations and destruction of ground targets with air strikes.
Turkey was the first country to recognize Azerbaijan's independence after the collapse of the Soviet Union in 1991. The two countries have very good relations almost in every field, including political, economical, military and defense, touristic, cultural and more.
Military cooperation between Azerbaijan and Turkey started in 1992 with an agreement signed on military education. The agreement established the close and sustainable cooperation of the Azerbaijani and Turkish governments on defense and security fields.
Turkey's continuous military assistance to Azerbaijan surpassed $200 million in 2010. Azerbaijan army possesses various Turkish-made military equipment, as Turkey is among the main arms suppliers to Azerbaijan. Over 20 Turkish defense industry companies hold cooperation and commercial relations with the South Caucasus country.
- - -
Follow Mushvig Mehdiyev on Twitter: @Mushviggo
Follow us on Twitter: @AzerNews
Related News