27 February 2015 15:59 (UTC+04:00)
1 354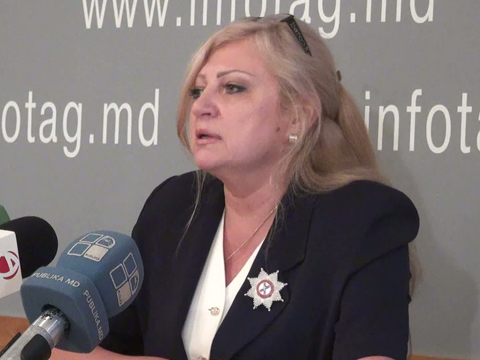 By Mushvig Mehdiyev
The incarceration and subsequent show-trial for Azerbaijani hostages in Azerbaijan's occupied lands is a complete provocation, declared a Moldovan human rights activist.
Moldovan Ombudsman Aurelia Grigoriu expressed strong reservations in regard to condemnation of two Azerbaijani nationals Dilgam Askerov and Shahbaz Guliyev by the puppet regime in Nagorno-Karabakh.
Asgarov and Guliyev, were charged and subsequently found guilty of alleged kidnapping, espionage, murder and other fictitious crimes in a show trial.
Grigoriu noted that the issue of the release of the two hostages would now depend on what the European Court will decide in relation to the gross human rights violations the two nationals were subjected to.
Grigoriu confirmed that both Armenia and Russia violated Articles 3, 5, 6, 7 of the European Convention on Human Rights in regards to the captives.
During an operation in the Shaplar village of Azerbaijan's occupied Kalbajar district on July 11, 2014 Armenian forces captured Hasan Hasanov, Shahbaz Guliyev and Dilgam Asgarov. Hasanov was killed after he endured horrific torture.
Asgarov is an ethnic Azerbaijani who holds a Russian citizenship.
Criminal charges were subsequently filed against them by Armenia in a so-called court in the Nagorno-Karabakh region. Asgarov was sentenced to life imprisonment and Guliyev to 22 years in prison.
"These are violations of the fundamental rights to liberty and security of a person, violation of the right to a fair trial," Aureliu said. She added that an appeal will be immediately filed to the European Court of Justice.
"Much work is being conducted for the sake of the release of the two Azerbaijani captives taken hostage in the occupied lands of Azerbaijan," First Deputy Speaker of the Azerbaijani Parliament Ziyafat Asgarov said.
He added that the issue has been raised with European organizations by Azerbaijani officials under the president's specific instructions.
"I do not think that the Armenians will be able to keep the Azerbaijani hostages for a long time," Asgarov said. "US Assistant Secretary for European and Eurasian Affairs Victoria Nuland has recently said in Baku, then in Yerevan, that the U.S. is interested in seeing the two Azerbaijani hostages released."
"However, we want these statements not only to be voiced, but also turned to action. The pressure must be exerted on Armenia," Asgarov noted.
U.S. high-level officials: Victoria Nuland and Jane Psaki have recently called on the Armenian authorities and all other relevant bodies to take all necessary steps to arrange the return of the two civilian hostages to Baku.
Russian Foreign Minister Sergey Lavrov said earlier in January that he would discuss the fate of Dilgam Asgarov with his Armenian colleagues in Yerevan.
Armenia has refused so far to answer foreign officials' calls in regard to the release of Asgarov and Guliyev. The issue has come to a deadlock due to Armenia's preference to adopt an aggressive stance towards the captives.
The conflict in Nagorno-Karabakh was sparked after Armenian troops invaded large swathes of land in Azerbaijan in the early 1990s. Following bloody skirmishes, Armenia armed forces occupied 20 percent of Azerbaijan's internationally recognized and historical territory. The conflict has yet to be resolved since Armenia has systematically refused to abide by UNSC resolutions.
- - -
Follow Mushvig Mehdiyev on Twitter: @Mushviggo
Follow us on Twitter: @AzerNews
Related News