Russia plans military base on Azeri-Armenian border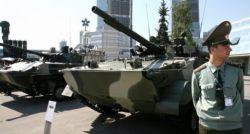 Russia plans to build a second military base on Armenia`s border with Azerbaijan in 2010. The base, to be located in the Ijevan region, will store heavy machinery, remote-controlled artillery and other weapons, local reports say.
Construction of a medium-range radar station at the base is envisioned, as well.
The facility will be a disturbing source of Russian military power for Azerbaijan and Georgia, the neighboring South Caucasus republics, analysts say. It is also considered threatening for the energy and transport corridors in the region.
The recent tide of unrest in Georgia has apparently accelerated the process of building another Russian-operated military base in Armenian territory.