29 October 2014 18:07 (UTC+04:00)
1 093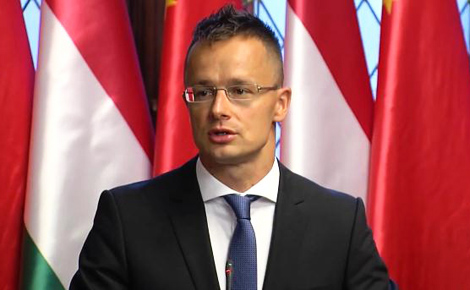 By Amina Nazarli
Hungarian Minister of Foreign Affairs and Trade Peter Szijjarto will pay an official visit to Azerbaijan on November 3-4, Hungarian ambassador to Azerbaijan Zsolt Csutora told Trend Agency.
"Agenda of the visit envisages meetings with Azerbaijan's foreign minister, minister of economy and industry, minister of agriculture, minister of culture and tourism and head of Azerbaijan's state oil fund," Csutora said.
He said Szijjarto will hold discussions on cooperation between Azerbaijan and Hungary in political and economic spheres.
During the visit, the minister will also visit Azerbaijan University of Languages, where he will meet with the leadership and students of the university.
Moreover, the Hungarian delegation will take part in the events dedicated to the Hungarian culture in Baku.
Hungary recognized Azerbaijan's independence in 1991, and diplomatic relations between the two countries were established in April 1992.
Azerbaijani-Hungarian high-level relations pave the way for the development of cooperation in economics and other fields. The two countries enjoy great opportunities for the expansion of economic cooperation, establishment of relations between the players of the securities market, and exchange of experience and knowledge in this sector.
The cooperation in industry, energy, transportation, agriculture, communications and information technology, pharmaceuticals, environment, culture, tourism and other areas are carried out successfully, and trade relations boost between Azerbaijan and Hungary. In 2013, the trade turnover between the two countries increased by nearly 40 percent up to 3.3 million.
Related News