Azerbaijani army capable enough to liberate occupied territories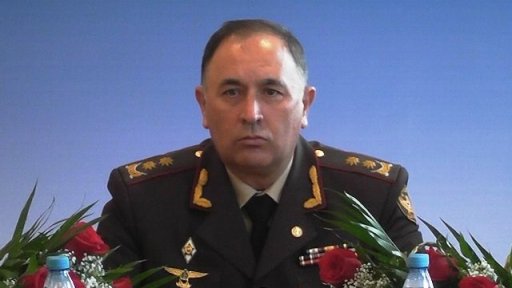 By Sara Rajabova
The Azerbaijani army is capable enough to liberate the occupied lands from the Armenian occupation upon the Supreme Commander's order.
Azerbaijani Deputy Minister of Defense, Lieutenant-General Kerim Veliyev made the remark in a medal awarding ceremony to the families and relatives of servicemen killed during the combat duty. The event was held in a training center of the Azerbaijani armed forces on August 14.
Representative of the Azerbaijani Defense Ministry, Colonel Abdulla Gurbani, military officers and relatives of killed servicemen attended the ceremony.
Before the ceremony, the participants paid tribute to the killed servicemen by a minute of silence.
During the ceremony, Veliyev, on behalf of Defense Minister, expressed condolences to the parents of killed servicemen.
He stressed that the nation will never forget the martyrs who sacrificed their lives for their country.
Veliyev assured every Azerbaijanis that the army would take the revenge of the martyrs on the enemies.
Colonel Abdulla Gurbani spoke about the glorious way of Azerbaijani military officers Fikret Mammadov, Ilgar Verdiyev, Elnur Jafarov and Jeyhun Orujaliyev who were posthumously awarded in accordance with the decree of Azerbaijani President Ilham Aliyev.
After President Aliyev's decree, Defense Minister and Colonel-General Zakir Hasanov's order were read and martyrs' families were awarded with combat medals.
The medal "For heroism", which was posthumously awarded to Fikret Mammadov, was presented to his wife, the medal "For Service in Battle", which was posthumously awarded to Ilgar Verdiyev - to his son, the medal "For Service in Battle", which was posthumously awarded to Elnur Jafarov - to his brother, the medal "For Service in Battle", which was posthumously awarded to Jeyhun Orujaliyev, was presented to his father.
Martyr Ilgar Verdiyev's father Tapdig Verdiyev and martyr Jeyhun Orujaliyev's father Pireli Orujaliyev stressed that their sons were killed in fighting for their Motherland, and they are proud of them.
Armenia occupied over 20 percent of Azerbaijan's internationally recognized territory, including Nagorno-Karabakh and seven adjacent regions, after laying territorial claims against its South Caucasus neighbor that caused a brutal war in the early 1990s.
As a result of the military aggression of Armenia, over 20,000 Azerbaijanis were killed, 4,866 are reported missing, almost 100,000 were injured and 50,000 were disabled.
The UN Security Council has passed four resolutions on Armenian withdrawal from the Azerbaijani territory, but they have not been enforced to this day.
Peace talks, mediated by Russia, France and the U.S. through the OSCE Minsk Group, are underway on the basis of a peace outline proposed by the Minsk Group co-chairs and dubbed the Madrid Principles. The negotiations have been largely fruitless so far.