Azerbaijan, Serbia discuss prospects of co-op in defense industry field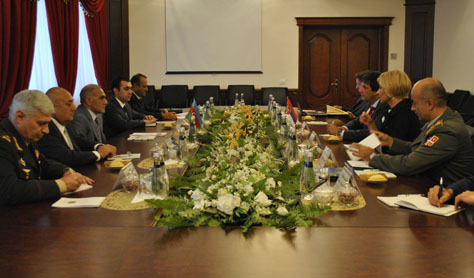 By Aynur Jafarova
Azerbaijan and Serbia have discussed the prospects of further cooperation in the field of defense industry.
The discussions were held during a meeting between Azerbaijani Defense Industry Minister Yaver Jamalov and a Serbian delegation led by Defense Minister Bratislav Gasic.
Jamalov informed the delegation about the activities of the Ministry and briefed Gasic on the ADEX-2014 International Defense Industry Exhibition to be held in Baku on September 11-13.
The Serbian delegation also visited the Defense Industry Ministry's Electronic Calculating Machines (ECM) Plant and got familiarized with the products manufactured by the facilities of the ministry.
The Serbian Defense Minister's visit to Azerbaijan started on August 11, and will last until August 13.
As part of the visit, the Serbian delegation was received by Azerbaijan's Prime Minister Artur Rasizade and the sides discussed the prospects of cooperation in the political, humanitarian, economic and military-technical fields.
Gasic said the strategic partnership between the two countries is in the favor of the Serbian and Azerbaijani people.
He also expressed gratitude to the Azerbaijani government for providing assistance during a natural disaster occurred in Serbia.
Gasic went on to note that Serbia supports the settlement of the Armenia-Azerbaijan Nagorno-Karabakh conflict based on the principles of territorial integrity and inviolability of borders of borders.
Earlier the Serbian delegation was received by President Ilham Aliyev and Defense Minister, Colonel-General Zakir Hasanov.
The Azerbaijani-Serbian relations, which are based on the principles of mutual respect and confidence, are rapidly developing. The two countries have significant opportunities to develop cooperation in the construction of infrastructure facilities, tourism, and education.
The two countries signed several documents in the legal sphere. Draft agreements on the protection and quarantine of plants, international cargo traffic, health care, and medicine are still to be ratified.