16 May 2014 18:00 (UTC+04:00)
964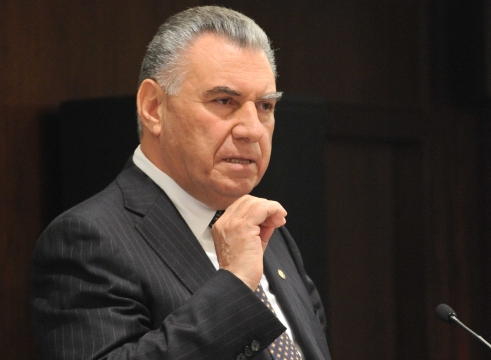 By Sara Rajabova
Azerbaijani Deputy Prime Minister Ali Hasanov has criticized the co-chairs of the OSCE Minsk group for being indifferent to Nagorno-Karabakh conflict.
"Each co-chair works for three or four years, makes tourist visits to the region, receives a salary, but there is no result," Hasanov, who is also the Chairman of the State Committee for Refugee and IDP Affairs and Chairman of the Republican Commission for International Humanitarian Assistance, said.
He made the remarks on May 16 at an event marking 22nd anniversary of the occupation of Azerbaijan's Lachin region by the Armenian armed forces.
Hasanov also talked about the proposal of opening the Lachin corridor, which is reflected in the six principles set forth by the OSCE Minsk Group.
One of the six principles indicates that there should be a corridor linking Armenia to Nagorno-Karabakh, saying it must be wide enough to provide secure passage, but it cannot encompass the whole of Lachin district.
"Armenians live in Russia, in Iran, in Georgia, in the United States and in Europe. Armenia occupied Lachin, and announced that they would create a corridor to the region. Armenia occupied Kelbajar saying it would create a buffer zone there. There are many Armenians who live in Stavropol and Krasnodar regions of Russia. Does it mean that Armenia is going to create a new corridor? Should Armenia create corridors in the territories inhabited by the Armenians in the United States and Europe? Or if, millions of Azerbaijanis live in any country does it mean that Azerbaijan must talk about making humanitarian corridor to the country?" Hasanov asked.
He also said the international community remains indifferent towards this issue.
U.S. co-chair of the OSCE Minsk Group Warlick presented the report "Nagorno-Karabakh: The Keys to a Settlement", during a speech at the Carnegie Endowment for International Peace on May 7.
He put forth six conditions to resolve the long-lasting Nagorno-Karabakh conflict.
Unlike the Azerbaijani officials, the U.S. Ambassador to Azerbaijan believes that Warlick's speech is very important.
"I think the Warlick's speech sets out very well American policy with respect to Nagorno-Karabakh. It certainly encourages both Armenia and Azerbaijan to take necessary steps to reach a resolution," Richard Morningstar said commenting on the issue on May 16.
Morningstar went on to add that Warlick's speech outlines six points that are necessary to reach a settlement to the conflict.
"Ambassador Warlick stated very clearly that the seven occupied territories surrounding Nagorno-Karabakh should be returned to Azerbaijan. He also highlighted the need to stabilize the final status of Nagorno-Karabakh based on self-determination, territorial integrity and non-use of force.
Morningstar also said the negotiations have been going on for twenty years, adding that this is very frustrating.
"And hopefully we will see actions from both sides," Morningstar underlined.
The precarious cease-fire between Azerbaijan and Armenia was reached after a lengthy war that displaced over a million Azerbaijanis and has been in place between the two South Caucasus countries since 1994. Since the hostilities, Armenian armed forces have occupied over 20 percent of Azerbaijan's internationally recognized territory, including the Nagorno-Karabakh region and seven surrounding districts.
The UN Security Council has adopted four resolutions on Armenia's withdrawal from the Azerbaijani territory, but they have not been enforced to this day.
Related News