Azerbaijan urges West to settle Nagorno-Karabakh conflict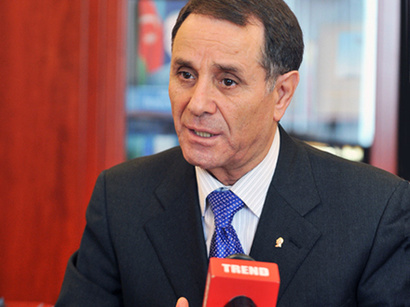 By Sara Rajabova
Deputy head of the Azerbaijani President`s Administration urged European countries to find a solution for the Nagorno-Karabakh conflict.
"European states must make an effort to settle the Nagorno-Karabakh dispute," Novruz Mammadov said on April 29.
He made the remarks while addressing the 2nd Global Shared Societies Forum in Baku, AzerTag state news agency reported.
Noting that Azerbaijan has been in a state of war for 25 years, Mammadov said the delay in the resolution of the Nagorno-Karabakh conflict is creating big problems for Azerbaijan.
However, Azerbaijan is confidently moving forward on the path of sustainable development, he added.
"Azerbaijan is situated in one of the most volatile regions of the world. Azerbaijan is one of the countries that has successfully pursued its internal and foreign policies after the collapse of the bipolar system in the world," Mammadov noted.
He said Azerbaijan has fully ensured internal stability, but one question that has remained unresolved is the settlement of the Nagorno-Karabakh conflict. "Because Azerbaijan supports the peaceful settlement of the conflict," Mammadov added.
Mammadov hailed Azerbaijan`s cooperation with the European Union as "close", particularly in the field of energy.
Azerbaijan is also closely cooperating with Western countries in the areas of democracy, human rights, and fight against terrorism, he added.
Mammadov, however, expressed regret over the fact that neither the European Union nor the OSCE Minsk group has proposed ways to ensure the just settlement of the Karabakh dispute.
He said the EU had offered Azerbaijan to sign an association agreement, but the issue of the territorial integrity of the country is not mentioned there.
"For 15 years, the EU has recognized Azerbaijan's territorial integrity in documents, but has refused to accept it in recent years. How are we to understand this? These questions make us think seriously," Mammadov said.
He also said along with other issues, the most urgent issue for Azerbaijan is the use of equitable principles in the international arena in practice, not just in words.
"The Nagorno-Karabakh conflict has remained unresolved for a long time, because the West and Europe have stated no specific position on this issue," Mammadov said.
He expressed hope that they will do so in the future.
For over two decades, Azerbaijan and Armenia have been locked in conflict which emerged over Armenia's territorial claims against its South Caucasus neighbor. Since a war in the early 1990s, Armenian armed forces have occupied 20 percent of Azerbaijan's territory, including Nagorno-Karabakh and seven surrounding regions.
A fragile ceasefire has been in place since 1994, but long-standing efforts by U.S., Russian and French mediators have been largely fruitless so far.
Armenia has not yet implemented the U.N. Security Council's four resolutions on its pullout from the neighboring country's territories.