Azerbaijani figure skating duo reach final in Sochi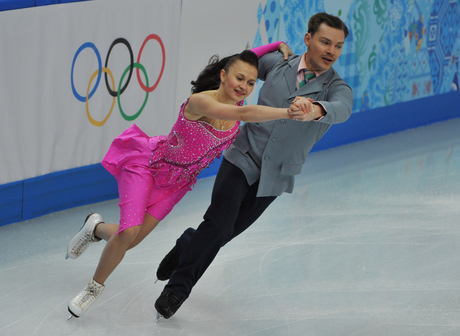 By Nigar Orujova
An Azerbaijani figure skating pair performed a short dance in the figure skating event at the Sochi Winter Olympic Games on February 16.
Skaters Alexei Sitnikov and Julia Zlobina are competing for Azerbaijan in t0he Olympic Games along with alpine skiers Patrick Brahner and Gaia Bassani Antivari.
The Azerbaijani couple ranked 14th with 58.15 points among 24 pairs at the Iceberg Skating Palace, which enables them to participate in the freestyle competition on February 17.
Americans Meryl Davis and Charlie White won the short dance event with 78.89 points, while Canadian couple Tessa Virtue and Scott Moir ranked second with 76.33 points.
Russia's Elena Ilinykh and Nikita Katsalapov scored 73.04 points and finished third.
Earlier, head of the Azerbaijani delegation at the Olympic Games Konul Nurullayeva said Azerbaijani athletes participating in the Games are enjoying good health and there are no problems.
Alpine skiing athletes compete against each other on February 19-21.
The Olympics are expected to have a positive effect on the development of winter sports in Azerbaijan.
Azerbaijan had been participating in the Winter Olympic Games since 1998 in skiing and figure skating sports.