Top prosecutor urges fair Russian probe into Azerbaijani citizen's case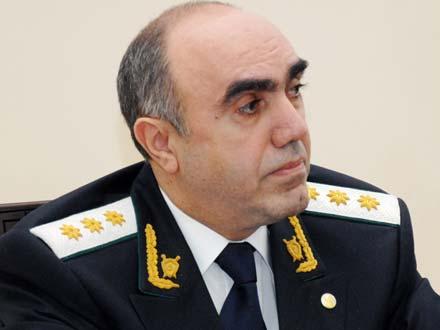 By Sara Rajabova
Azerbaijan's Prosecutor General Zakir Garalov has appealed to the top Russian prosecutor and the head of the investigation committee over the recent developments regarding an arrested Azerbaijani citizen in Moscow.
Garalov called on the Russian bodies to conduct a fair investigation of the criminal case launched against Orkhan Zeynalov, who was accused of murdering a Russian citizen, according to the criminal procedural legislation and the norms of international law, the Prosecutor General's Office said.
A 25-year-old Russian citizen from Moscow, Yegor Shcherbakov, was killed on October in the Biryulevo district, which stirred up public resentment and eventually led to riots. The police detained Zeynalov in the vicinity of Moscow on suspicion of murder and brought him to the capital.
Azerbaijan's parliament discussed the latest events that occurred in Moscow at its plenary session on October 22.
Condemning the illegal pressure on migrants in Moscow, MP Fazil Mustafa suggested acting upon this issue in collaboration with other countries.
According to him, in particular, the Turkic-speaking countries should coordinate their efforts in this area, as most of the migrants living and working in Russia are representatives of these countries.
"We will be able to tackle an effective solution of the problem only through joint efforts," Mustafa said.
MP Sabir Rustamkhanli said this question needs to be addressed very seriously and the parliament should send an enquiry to the Russian State Duma.
Rustamkhanli said no country in the world has such an attitude toward migrants.
He also protested what he believes is indifferent attitude toward the issue of Azerbaijani billionaires in Russia.
Another MP, Fazail Agamali, said the main purpose of the events taking place in Moscow is political pressure on Azerbaijan with a view to the country's accession to the Eurasian Customs Union.
"Demonstrating political will, we need to show our support for our countrymen in Russia," Agamali said.
He said the Azerbaijani-Russian inter-parliamentary friendship group should keep this issue in spotlight, contributing to its solution.
Parliament speaker Oqtay Asadov said that the developments taking place in Moscow are in the focus of attention, both at the state level and at the level of parliament. The government as well as the working group on inter-parliamentary relations are dealing with the issue.
The Azerbaijani side has issued a note to the Russian Foreign Ministry requesting provision of consular assistance to Zeynalov.
Hundreds of Russian nationalists demanding the catch of the Russian citizen's killer attacked the Biryuza shopping centre and Pokrovsky fruit and vegetable base in West Biryulevo and beat migrants from the Caucasus and Central Asia working in the center and the market.
Special units had to arrive at the scene. During the clashes, a large number of migrants and locals were injured. After these incidents one Azerbaijani citizen and one Uzbek citizen were brutally killed in Moscow.