15 February 2013 12:02 (UTC+04:00)
1 323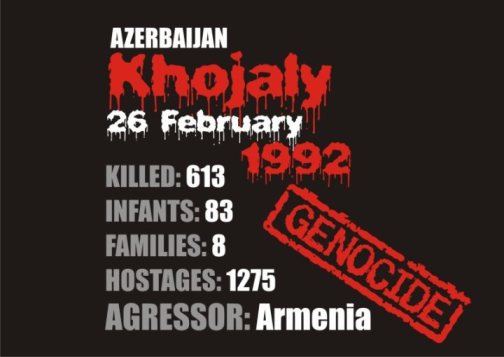 The organization for Fighting Against Baseless Armenian Allegations (ASIMDER) will organize an exhibition to mark the 21st anniversary of the Khojaly tragedy on Sunday.
Photos reflecting martyrs and disabled persons of the tragedy will be on display at the four-day exhibition.Visitors will be handed over CDs, books and booklets presented by Azerbaijan`s Embassy and Consulate General in Kars.
The aim of the photo exhibition is to increase the Turkish society`s awareness on the Khojaly genocide, the biggest war crime in ex-USSR in the second part of the 20th century, committed by the Armenian armed forces.

Also, tents in memory of the victims of the Khojaly tragedy will be set up in Erzurum and Ushak.
The Khojaly massacre is one of the most heinous and bloodiest events of the 20th century. It was committed in the town of Khojaly, which was situated within the administrative borders of the Nagorno-Karabakh region of Azerbaijan. Its population constituted over 7,000 people. Because of its communication advantage of having a civilian airport, just before the start of Nagorno-Karabakh conflict it had become a shelter for refugee Meskhet Turks who fled the bloody inter-ethnic clashes in Central Asia as well as Azerbaijani refugees deported from Armenia.
Late into the night of February 25, 1992, the town came under intensive fire from the town of Khankendi and Askeran already occupied by Armenian forces. At night the Armenian armed forces supported by the ex-Soviet 366th regiment completed the surrounding of the town already isolated due to ethnic cleansing of the Azerbaijani population of its neighboring regions. The joint forces occupied the town, which was ruined by heavy artillery shelling.
Related News