Azerbaijan condemns police brutality against protesters in France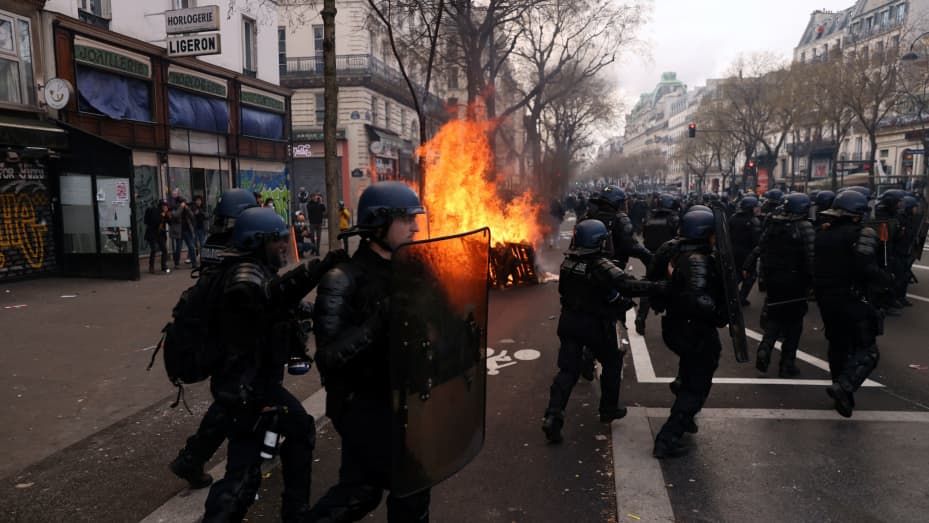 As France's streets are engulfed in flames, police brutality and mistreatment of the protesters are getting out of control with hundreds of arrests and beatings.
Commenting on the issue, Spokesperson for Azerbaijani Foreign Ministry Ayxan Hajizada called on the French government to respect constitutional rights in the country, such as freedom of opinion and the right to assembly as well as the right to peaceful protest.
"We condemn the excessive and disproportionate use of force by the law-enforcement agencies against the protesters in France following President Macron's decision, and in some cases, the inhumane treatment of protesters," the official stated.
Furthermore, the spokesperson expressed the belief that the Council of Europe and international human rights organizations would investigate cases of excessive violence in France and demand the adoption of appropriate measures within the framework of the country's obligations.
Similarly, Azerbaijani Ambassador to Germany Nasimi Agayev stated that Baku condemns the excessive use of force by police against protestors in France. "Azerbaijan has condemned the excessive use of force by police against protestors in France & urged the French government to respect the constitutional rights," he tweeted.
Following French President Emmanuel Macron's announcement to use special constitutional powers to force a pension bill, which will see the retirement age for most workers rise from 62 to 64 and the number of years a worker must pay into the system to receive a full pension rise from 42 to 43 in 2027, the streets of France are filled with mass protests.
Bordeaux town hall was set on fire, although the flames were quickly extinguished. In Paris and other cities, tear gas and water cannons have been fired at protesters, and police officers have been injured.
---
Follow us on Twitter @AzerNewsAz