Azerbaijani ambassador to Paris gives news conference for foreign reporters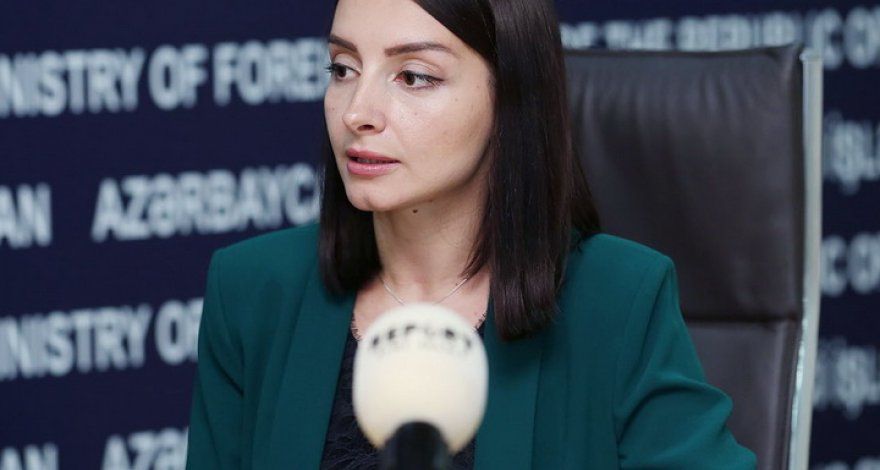 Azerbaijani ambassador to France Leyla Abdullayeva gave a news conference for foreign reporters at the Culture Center of the embassy, Azernews reports.
After regaining its independence in the early 1990s, Azerbaijan faced Armenian aggression, Leyla Abdullayeva said, adding that it had led to the occupation of 20% of its territory. She pointed out that one million Azerbaijanis were driven out of their homeland as a result of the Armenian aggression, becoming refugees and internally displaced people.
The media representatives were informed by Abdullayeva that while Armenia's position was anything but constructive, Azerbaijan has always sought peace and has been trying to resolve the issue of the occupation of its territories through negotiations for 30 years. During those 30 years, the former OSCE Minsk Group, which was established to mediate the conflict, made no progress.
She stated that Azerbaijan had run out of patience due to Armenia's provocations in 2020, and resorted to force to reclaim its territories. The ambassador stressed that Armenia does not adhere to the terms of the trilateral agreement that was signed between Azerbaijan, Russia, and Armenia after Azerbaijan's victory.
Azerbaijan is interested in establishing peace in the region and is proposing Armenia sign a five-point peace treaty, however, the latter is maintaining an unconstructive position and is unable to admit Azerbaijan's victory, Leyla Abdullayeva said.
Speaking about the work carried out by Azerbaijan to establish peace in the region, Abdullayeva also gave detailed information on the situation around the Khankandi-Lachin road. She informed the journalists that the road is open. Although the road was built for humanitarian purposes, Abdullayeva pointed out that Armenia used it to transport military personnel, weapons, and mines into Azerbaijan.
Speaking of the illicit exploitation of Azerbaijan's natural resources, the ambassador noted that there is proof that the gold and molybdenum deposits on the liberated lands of Azerbaijan were exploited by Armenia.
She mentioned that Azerbaijanis are protesting peacefully against the unauthorized use of the country's mines and quarries. Azerbaijan cannot permit the transfer of Armenian soldiers, weapons, or mines to its territory, according to Abdullayeva. She emphasized that in order to continue its illegal activities, Armenia is disseminating false information about the circumstances surrounding the Khankandi-Lachin road.
Ambassador Leyla Abdullayeva also answered journalists' questions.
In conclusion, foreign journalists learned about Azerbaijani history and culture through the exhibits at the embassy Culture Center.
---
Follow us on Twitter @AzerNewsAz