Azerbaijan upgrades ranking in National Cybersecurity Index [PHOTO]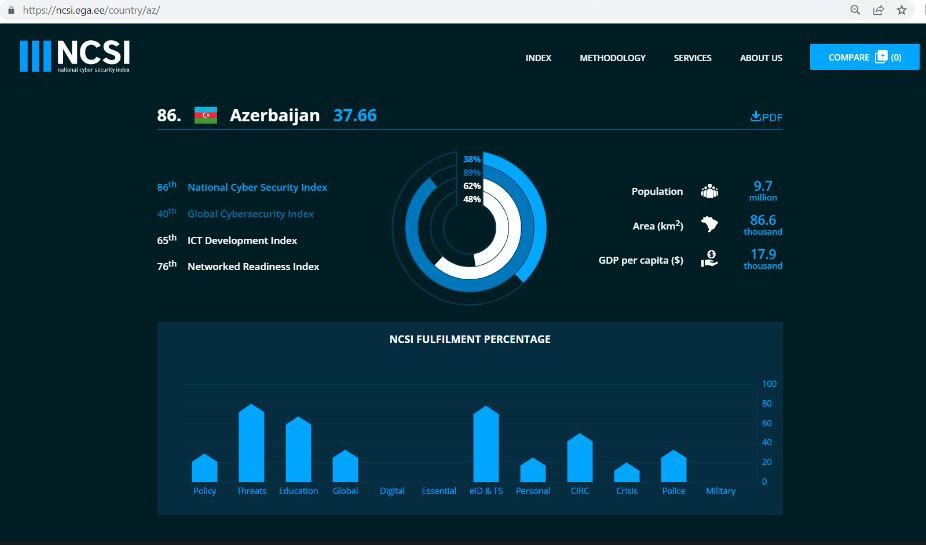 Azerbaijan has upgraded its ranking by 34 and advanced its position from 86 to 52 in the National Cybersecurity Index, Azernews reports, citing the Association of Cybersecurity Organizations of Azerbaijan (AKTA).
The National Cybersecurity Index (National Cybersecurity Index - https://ncsi.ega.ee/) ranks and evaluates 46 indicators of the digital environment of 161 countries.
"This result is considered to be the highest position that our country has achieved so far in the rating table," AKTA notes.
In comparison, the neighboring Georgia and Armenia rank 50 and 90 respectively in the index.
President Ilham Aliyev has repeatedly stated that the development of cybersecurity in all areas, as well as strengthening the cyber protection of crucial information resources, is one of the country's top priorities. The head of state gave appropriate instructions on taking steps toward the development of this sector.
This approach and the need to ensure cyber security have become one of the most important challenges in the field of information security in Azerbaijan today. Activities in accordance with these calls are being implemented by a number of competent institutions, including the Ministry of Digital Development and Transport, and the potential of Azerbaijan in the field of cyber security is being developed.
The National Cyber Security Index, founded and developed by the Estonian Academy of E-Governance Foundation, is a global index that measures the readiness of countries to ensure cyber security and manage cyber incidents in real time.
---
Follow us on Twitter @AzerNewsAz