President Ilham Aliyev taking part in international forum in Italian Cernobbio city [UPDATE]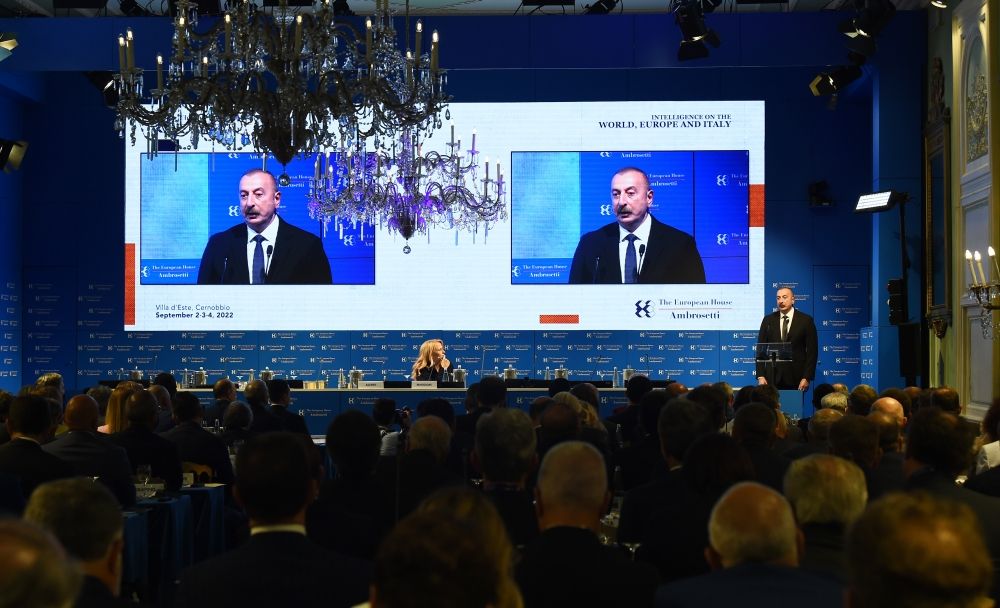 The 48th edition of the international Cernobbio Forum under the motto "Intelligence on the World, Europe and Italy" and "Today's and tomorrow's scenario for competitive strategies" organized by the European House - Ambrosetti think tank has kicked off in Cernobbio, Italy.
President of the Republic of Azerbaijan Ilham Aliyev attended the forum as a chief guest at the international forum at the invitation of the Italian President Sergio Mattarella, President of the Council of Ministers of Italy Mario Draghi, and the European House - Ambrosetti think tank.
The head of state made a speech on "The role of Azerbaijan for Energy Security" at the plenary session of the forum.
Welcoming President Ilham Aliyev, moderator of the session Monica Maggioni said:
-So, it was a tough start, because we had to speak about war in and out of Europe. But today what we will try to do together is to have a wider look and try to figure out what is going on in the rest of the world and how this war in turmoil can find a way out. One of the top issues these days is obviously about energy security and it is a pleasure for me, welcoming the President of Azerbaijan, Ilham Aliyev, who will come into the room to give us a speech just about energy and security. President Aliyev, good morning. Welcome. The floor is yours.
President Ilham Aliyev: Good morning, ladies and gentlemen.
First of all, I would like to express gratitude to the European House – Ambrosetti for inviting me to participate in this important event. It is a great pleasure to be in this beautiful place and to enjoy your company.
My visit to Italy started yesterday. I visit your country quite regularly. Last time, I was here on a state visit in 2020 when we signed a strategic document on partnership between Italy and Azerbaijan. This visit also was very successful. I had very good meetings with Mr. President, with Mr. Prime Minister and we discussed a broad range of issues of close strategic partnership cooperation between our countries. Also, I would like to add that President Mattarella four years ago paid an official visit to Azerbaijan. So, this shows that our political dialogue is very active and we add to bilateral agenda new very important items. One of them is education. So, we talked yesterday not only about energy issues and economic development, but also about education. And yesterday, in the building of the Azerbaijani Embassy in Rome, there was an excellent ceremony, which marked the beginning of creation of an Italian-Azerbaijani University. ADA University of Azerbaijan is a partner to five leading Italian universities – Luiss Guido Carli University, Polytechnic University of Milan, Polytechnic University of Turin, Bologna University and Sapienza University of Rome. So, that means that our agenda is very broad, but, of course, the main subject of discussions was energy policy, especially in these difficult times.
To talk about Azerbaijan's role for energy security, I need to draw your attention to some historical moments. Our energy strategy had been divided into stages. At the first stage, just three years after restoration of our independence in 1994, we were the first country which invited major energy companies of the world to work in the Caspian Sea. And very soon, we became an exporter of oil to European market, primarily to Italy and Azerbaijan is number one oil supplier to Italy for many years. But, being a landlocked country, we needed to have export pipelines, so we led the process of changing the energy map of Eurasia, building two strategic oil pipelines, one to the Mediterranean port of Turkiye and another to the Black Sea port of Georgia, thus diversifying the energy supplies to the Black Sea market and the world market. The second stage of our energy strategy was development of huge gas fields. According to the information about the proven reserves of Azerbaijan, they are equal to 2,6 trillion cubic meters and Azerbaijan, for many years, already for more than 10 years, is a reliable supplier to the neighboring market. But, of course, taking into account the existing potential and our plans of investments in gas infrastructure, we needed to build a major gas supply pipeline, which was called by us the Southern Gas Corridor. The Southern Gas Corridor is an integrated pipeline system consisting of three pipelines – the South Caucasus pipeline, Trans-Anatolian (TANAP) and Trans-Adriatic (TAP), which ends here in Italy. This is a 3,500 kilometer very complicated technical infrastructure. It partly goes to cross high mountains and partly goes on the seabed. And the last day of 2020, on the 31st of December, the final part of that major project, TAP, was inaugurated. Since that time, for one year and a half, Azerbaijan became a supplier of natural gas to three European countries, apart from Turkiye and Georgia. 13,5 billion cubic meters of gas have been supplied to Europe for one and a half year, 11,7 billion out of that to Italy. And this year, we plan to increase the volume and we project to supply the Italian market with close to 10 billion cubic meters. Our total export will be more than 22 billion cubic meters and with the great potential to grow.
Last month in Baku, Madam Ursula von der Leyen, President of the European Commission and myself signed a Memorandum of Understanding on strategic partnership in the energy field between the European Commission and Azerbaijan. This is a very important step towards further development of our energy resources and based on that, I called it a roadmap for the future, we will plan, and I am sure we will achieve it, to double our energy – natural gas export to Europe. But for that we need to undertake important steps – political decisions, technical steps and, of course, investments, because the capacity of the Southern Gas Corridor in different segments is different. TANAP has capacity of 16 billion cubic meters. We plan to expand it up to 32 billion cubic meters and TAP has a capacity of 10 billion cubic meters and it is almost full, so we need to expand it at least to 20. That will need, of course, additional financial contribution. As a country, as an investor, we are ready to do it, but that also must be done by other members of our team. At the same time, now in Europe we see that after the Russian-Ukrainian war, the issue of natural gas became one of the most important on Europeans' agenda and there are different projects of interconnectors. One of them, Greece-Bulgaria, is close to be inaugurated. There are other projects of that kind. There is one projects, which is called the Ionic-Adriatic pipeline, which will bring Azerbaijani gas to three Balkan countries. In general, I can tell you than after the beginning of the Russian-Ukrainian war, we got official requests from more than 10 countries with respect to the increase of our supply or starting our supply, including those countries which already get our gas like Turkiye, Georgia, Italy and Bulgaria and many more. So, in order to be able to satisfy the growing demand, we, of course, need to have a very close cooperation and coordination. For that purpose, we have already officially launched the dialogue between the EU and Azerbaijan on energy, which will cover not only natural gas, but other segments of the energy market, particularly electric energy, hydrogen and green hydrogen. And this brings us to the third stage of Azerbaijan's energy strategy, which is the investments in renewable sources of energy. We started this process several years ago, though, as you can understand with those figures which I brought to your attention, we are pretty comfortable with natural gas and with oil and our power stations were both on natural gas and on fuel and also on hydro recourses. But, it was our, how to say, moral commitment to invest in renewables, especially taking into account a huge potential. And there have been already many evaluations of the potential of renewable energy in Azerbaijan. So, only in the Azerbaijani sector of the Caspian Sea, the proven potential is 157 gigawatt of energy. In the territories, which we liberated during the Patriotic War of 2020 in Karabakh and Zangazur, the potential of solar, wind and hydro energy is more than 10 gigawatts and we are already in the process of development of this huge potential. I can tell you than three leading energy companies, one from Saudi Arabia, one from the UAE and one from the United Kingdom already are investing and planning to invest in three renewable power stations of a total capacity of more than 700 megawatts. So that will save us additional gas for export and that will increase our export potential. Today we are talking about how to bring our electric energy to Europe through the existing line, which goes through Georgia, Turkiye, Bulgaria and further to Europe or through the new line, Zangazur corridor, which has a great potential also for alternative energy supply route. So, these are basically the three stages of our energy development, which today are, how to say, needed, not only in Europe, but on a broader market and we are ready to do all what we can in order to satisfy the growing needs of our partners. It is clear that energy security is national security and after the war in Ukraine started, it is clear than ever before.
So, thank you for your attention and once again thank you for inviting me to attend this important event.
-Thank you, President Aliyev. And thanks for your speech, because actually it is exactly in the middle of the issue here, because we are discussing countries all over Europe and the energy situation is there key. But, let me ask you something. You know, there is a regional issue out there and I couldn't just ask myself, listening to you, how difficult should it be being in the region having historic ties to Russia. I am trying to figure out what is your own politics out there. How do you cope with that? That is difficult, no?
-It may seem difficult, but that is our history, that is our geography and we live in this geography forever and neither we nor our neighbors can change the geography. I think the success of our country in political development, in strengthening of independence – we celebrated last year the 30th anniversary of our independence – demonstrate that it is possible to build normal relations with neighbors and at the same time with big neighbors, much bigger than you are, and at the same time, to preserve your identity, national identity, independence and your independent political course. And with respect to relations with our neighbors, I can say that we always try to find areas of cooperation and those areas which were problematic or where we had a different approach, we always articulated that. We never adjusted ourselves to a policy of our big neighbors. We always had our own policy, which is based on international law, justice, decisions and resolutions of international organizations and common sense. And that is why we succeeded. Azerbaijan now is stable from political point of view, from economic point of view. We invested a lot in being independent from point of view of economic activity. Otherwise, we would have felt under dependence. So, we have been part of empires, we have been part of the Soviet Union. Now thirty years, our people live free and we want to live free forever. For that we must be strong. We must have good friends and partners.
-It is so important what you are saying and you know I was listening why you were mentioning the new ties in the region and not just in the region with Italy, with my country, about culture or education and all those ties that are connected to energy and to the energy exchange. In the next panel we will be discussing the new global order. Seeing from your perspective, seeing from your country, how is it going to shape?
-Well, it depends on many circumstances. Of course, it is difficult to predict what will be the new global order, but it is clear that the world will never be as it was before February this year. The world has changed and how this change will evaluate, it will depend on a variety of factors. It will depend on how long the war in Ukraine continues. It will depend on what will be the end of that war, what will be the balance of forces in the world and, of course, in the region. For us, the most important as a country which is relatively newly independent, is to protect us from external problems and external challenges. Because internally our country is well integrated, society is mobilized and there is a unity in what we are planning to do and how to develop the country. Therefore, for us the most important is what will be the implication of a new global order to our region, what will be the position of big regional countries, how we will succeed in our plans to achieve peace with Armenia and what will be the future of our children and new generations. Therefore, we are observing the situation. Of course, we are making our steps with respect to our strategy, but at the same time, we cannot ignore the changing world and the changing rules of the game when norms of international law are absolutely and totally destroyed and in our case they were destroyed when Armenia occupied us and we were actively appealing to the international community to draw attention for that injustice when our lands were under occupation and the Security Council resolutions of the United Nations for 27 years were not implemented.
Now, we see violation of international law in many other areas and we see that countries, which think that they can ignore them, they do ignore them openly. So, this is an absolutely new situation. What will be the new order of the world, what will be the new function of international institutions, whether the United Nations will continue like it is or it will be reformed and some other organization will emerge, all that is possible. And it depends on those who have responsibility for the world. Who have power to promote the ideas and integrated opinion of decision makers.
-Definitely, this is going to be one of the key issues for the next decades. Thank you, Mr. President. It was a pleasure and privilege, talking to you for your insightful views.
-Thank you.
***
The European House - Ambrosetti has been nominated in the category "Best Private Think Tanks" as the 1st Think Tank in Italy, 4th in the European Union, and among the most respected independent institutions in the world among 11,175 nominees, in the latest edition of the "Global Go To Think Tanks Report" of the University of Pennsylvania. In 2022, The European House - Ambrosetti has been recognized by Top Employers Institute as one of the 131 "Top Employer" companies in Italy. In keeping with these accolades, the Forum will present many analyses and researches that we have carried out.
The highly-select audience is comprised of 200 top managers from Italy and abroad, with precedence given to members of the prestigious Ambrosetti Club. The Forum is an annual event of international scope and prestige.
Heads of state and government, top representatives of European institutions, ministers, Nobel prize winners, businessmen, managers and experts from around the world have been meeting every year since 1975 to discuss current issues of major impact for the world economy and society as a whole.
***
President Ilham Aliyev then responded to questions from international media outlets.
---
Follow us on Twitter @AzerNewsAz