Azerbaijani, Georgian presidents make press statements [UPDATE]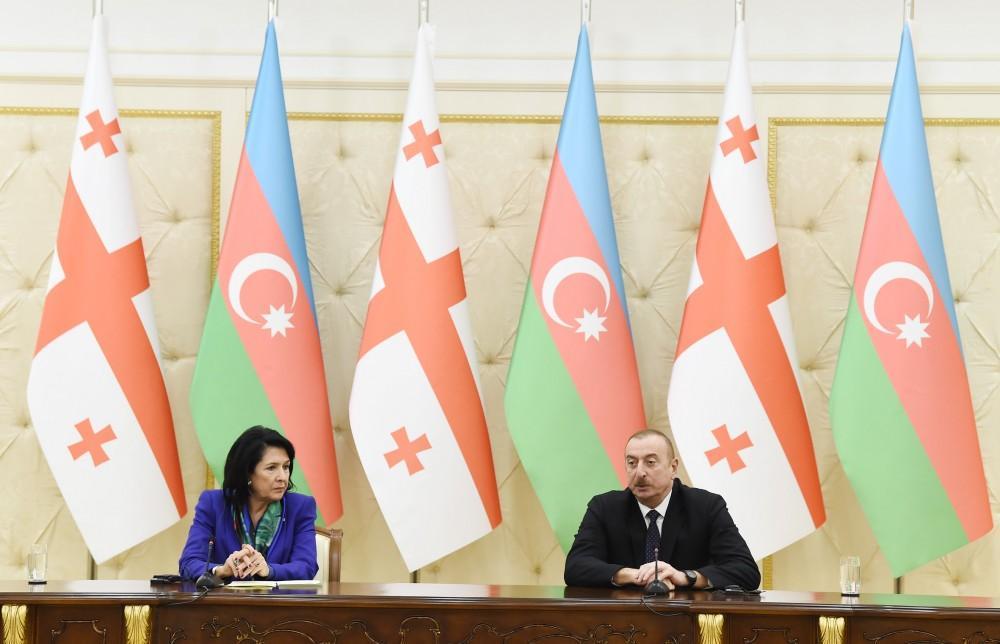 Following the expanded meeting, President of the Republic of Azerbaijan Ilham Aliyev and President of Georgia Salome Zourabichvili have made press statements.
Statement of President Ilham Aliyev
- Dear Madam President.
Dear guests, ladies and gentlemen.
First of all, Madam President, let me cordially welcome you to Azerbaijan again. Welcome to Azerbaijan.
Once again, I congratulate you on your victory won in the recent presidential election. I am very pleased that you are visiting Azerbaijan shortly after the election. This indicates that you attach great importance to the ties between our countries. We also attach great importance to the development of Azerbaijani-Georgian relations. We are very pleased that these relations are developing successfully and rapidly. Today's visit and our discussions and negotiations confirm once again that our relations have a bright future.
Our peoples have been together for centuries. We have always lived in friendship and fraternity. And today, the friendly and fraternal ties are a major factor for our interstate relations. We are building our interstate relations on this solid foundation. Today, Georgia and Azerbaijan successfully cooperate in all areas.
Our political contacts are at a high level, meetings and high-level consultations are held on a regular basis. We always support each other within international organizations. In all international organizations, Georgia and Azerbaijan always demonstrate solidarity and support each other in matters of territorial integrity.
Of course, a significant part of our cooperation is related to the energy sector. These issues were also widely discussed today. I must say that this cooperation has a long history. We have managed together to implement very important and major projects together. If we turn to history, we will see that the construction of the Baku-Supsa pipeline back in the late 1990s was a huge event. This allowed us the opportunity to connect the Caspian and Black Seas via an oil pipeline. Following this, of course, the Baku-Tbilisi-Ceyhan and Baku-Tbilisi-Erzurum oil and gas pipelines were built. We, the three countries involved – Azerbaijan, Georgia and Turkey – have implemented all of this through joint efforts. Today, these projects have significantly accelerated our economic development. At present, the Southern Gas Corridor project is being successfully implemented along this route. This is the largest infrastructure project in the region. There is not too much time left for the implementation of the Southern Gas Corridor. Last year was very important from the point of view of project implementation. The Southern Gas Corridor was officially inaugurated last year. The TANAP project, which constitutes its main part, was put into operation. Gas is already being transported through the TANAP pipeline. These projects are of tremendous importance for our countries and the region, as they deepen our cooperation. Whereas three countries were involved in these projects at the initial stage, there are many more countries involved today and new partners are joining the projects.
At the same time, we are paying great attention to cooperation in the transport sector, which was also the subject of negotiations. These projects are also bringing huge benefits to our countries. As a result of the opening of the Baku-Tbilisi-Kars railway a year and a half ago, the volume of cargo currently passing through the territories of our countries is growing and will continue to grow. We are still in the first stage of this project, but are already seeing its benefits. The increasing freight traffic suggests that we are on the right track. After the opening of the Baku-Tbilisi-Kars railway, Azerbaijan held negotiations with its neighbors, countries located in the eastern part of the Caspian Sea, and reached an agreement. I am sure that on the basis of this agreement, the freight traffic will significantly increase. This is our common project. The new corridor will connect continents. And again, the main role here has been played by the traditional format of the Azerbaijani-Georgian-Turkish trilateral cooperation. The number of cooperating countries is now increasing.
Of course, we have had a wide exchange of views on all other issues today, including those related to cooperation in the humanitarian sphere, in the fields of culture, education and tourism.
The Georgians living in Azerbaijan and the Azerbaijanis living in Georgia play a very important role in the development of our relations. Georgia and Azerbaijan are multiethnic and multi-confessional countries. This is our great asset. Representatives of all the peoples living in our countries feel very comfortable. This is a very important factor for the current and future development of our countries.
I am glad that Madam President will also visit the north-western region of Azerbaijan and meet local people there, including our citizens of Georgian origin. Of course, this will be a very important event for them too. I am sure that representatives of other nations living there will also be very happy about this. In addition, I am convinced that familiarization with this picturesque part of our country will make a pleasant impression on you.
In a nutshell, I can say that our cooperation in all areas has great prospects and, most importantly, there is a strong political will. Georgia and Azerbaijan will continue to support each other. We will continue to develop the implemented projects and think about new projects. I am sure that our peoples and states have a bright future. The current official visit is of great importance for our relations.
Dear Madam President! Let me once again welcome you to Azerbaijan. Thank you!
---
Follow us on Twitter @AzerNewsAz