Azerbaijan mobilizes all forces to fulfill tasks set in Sustainable Development Goals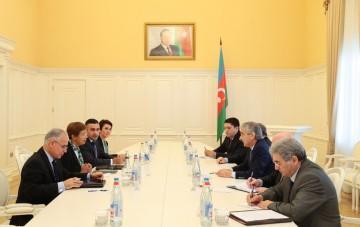 By Trend
Azerbaijan has mobilized all forces to fulfill the tasks set by the Sustainable Development Goals, the Deputy Prime Minister, Chairman of the National Coordinating Council on Sustainable Development Ali Ahmadov said.
He made the remarks Oct. 24 at a meeting with the President of the United Nations' Economic and Social Council (ECOSOC) Inga Rhonda King.
The deputy prime minister noted that King's participation in the Baku Forum, organized on the theme of expanding regional and international cooperation, would contribute to the relations between Azerbaijan and the UN.
The deputy prime minister expressed hope for further successful development of relations between Azerbaijan and the UN, stressed that Azerbaijan successfully implemented the concept of radical renewal, reformation of the economy in order to fulfill the tasks of the Sustainable Development Goals and to improve the standard of living of the population.
Ahmadov stressed that the National Coordination Council on Sustainable Development was established by decree of the President of Azerbaijan Ilham Aliyev dated October 6, 2016.
He noted that in the summer of 2019, the second voluntary national report of Azerbaijan on the Sustainable Development Goals will be presented at the High Level Political Forum.
The deputy prime minister also briefed King on the Armenian-Azerbaijani Nagorno-Karabakh conflict, and said that as a result of the conflict 20 percent of Azerbaijani lands were occupied and more than one million compatriots became refugees and internally displaced persons and that this problem should be solved within the framework of Azerbaijan's territorial integrity according to the norms of international law.
He also noted that the territorial integrity and inviolability of the borders of Azerbaijan have been reaffirmed and the immediate withdrawal of the occupational forces from Azerbaijani territories has been demanded in the four resolutions of the UN Security Council on this conflict.
"Unfortunately, these resolutions are still not implemented," Ali Ahmadov said.
Inga Rhonda King expressed appreciation for her stay in Baku and participation in the high-level forum, thanked the Azerbaijani government for the invitation.
At the meeting, an exchange of views took place on a number of issues of mutual interest.
The meeting was attended by the Head of the Azerbaijani Permanent Mission to the UN Yashar Aliyev.
---
Follow us on Twitter @AzerNewsAz