22 May 2018 13:35 (UTC+04:00)
3 618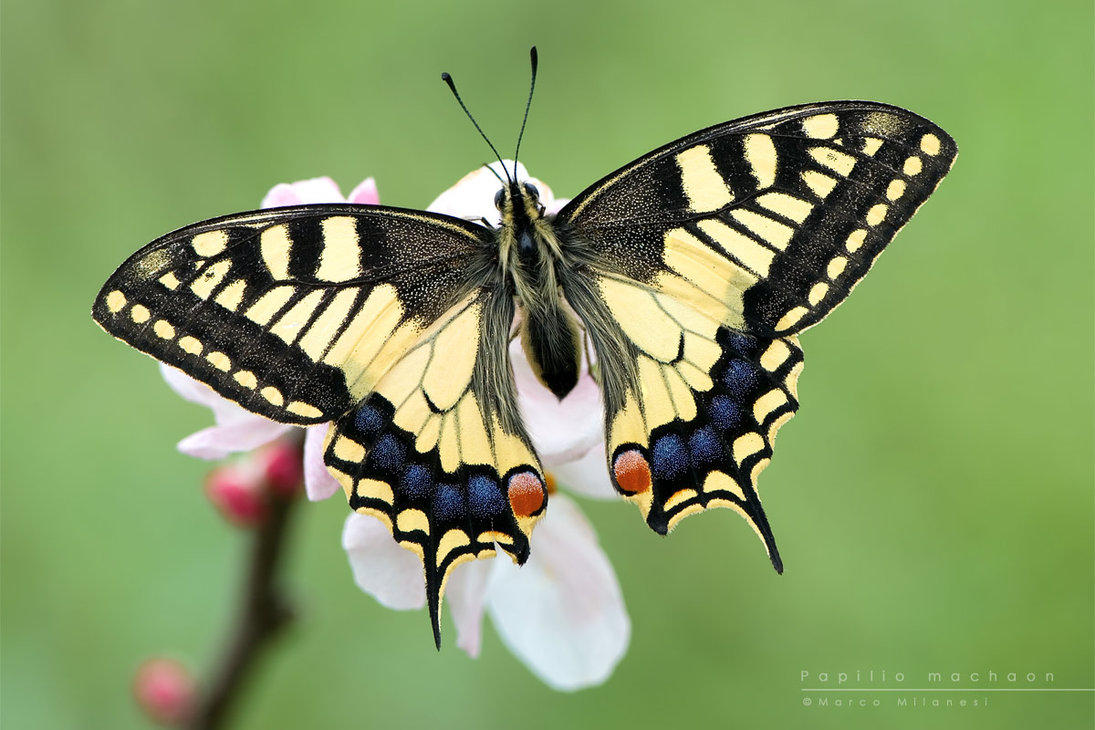 By Laman Ismayilova
Unknown butterflies have been discovered in the private farms close to Hirkan National Park in Lankaran region.
The butterflies were found during the monitoring carried out by specialists of the State Phytosanitary Surveillance Service.
After researches scientists determined that the caterpillars belong to the rare butterfly species, Papilio machaon, which is listed in the Red Data Book. Currently, measures are being taken to conserve this rare species in nine regions of the world.
Papilio machaon, the Old World swallowtail, is known as the common yellow swallowtail or simply the swallowtail.
The butterfly has a strong and fast flight, but frequently pauses to hover over flowering herbs and sip nectar. It frequents alpine meadows and hillsides, and males are fond of 'hilltopping', congregating near summits to compete for passing females.
The butterflies are widespread in South Caucasus and Nakhchivan Autonomous Republic from the valley of the Araz River to the mountains at an altitude of 1,750 m above sea level.
Hirkan National Park, established in 2004is located on the shores of the Caspian Sea in the southeast of Azerbaijan. The area of park was enlarged to 40,358 hectares in 2008.
Its mission is to ensure the conservation of relict and endemic plant species of the Tertiary period, the protection of typical flora and fauna representatives of this area listed in the Red Data Book of the Republic of Azerbaijan, the implementation ofenvironmental monitoring, public environmental education as well as creating conditions for research, tourism and recreation.
The park is rich in plant species. The vegetation cover is mainly represented by trees and shrubs that form forests here.
Forests in the lower part predominantly comprise chestnut-leaved oak, ironwood and hornbeam together with black locust, Hirkan fig, Caucasian persimmon, etc.
Of 435 tree and shrub species occurring in Azerbaijan 150 ones grow in the Hirkan forests.
Front-Asian leopard, lynx, wild cat, badger, wild boar, roe deer, sika deer, raccoon are found among. Front-Asian leopard, protected under the Red Data Book of Azerbaijan and IUCN list can be found here.
The Red-listed species also include Talish longhorn beetle, Talish ground beetle, speckled wood, Talish orangetip butterfly, Caspian parandra, brahmid moth and other insects.
Hirkan National Park numbers over 118 bird species, 16 of which, including black stork, osprey, Northern goshawk, imperial eagle, Talish Caucasian pheasant, black francolin are listed in the Red Data Book of Azerbaijan.
---
Laman Ismayilova is AzerNews' staff journalist, follow her on Twitter: @Lam_Ismayilova
Follow us on Twitter @AzerNewsAz
Related News