Lapshin's pardoning: Baku needs only justice, not vendetta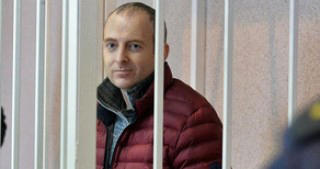 By Trend
Azerbaijani President Ilham Aliyev's order to pardon blogger Alexander Lapshin is a step proving that Baku never needed vendetta, but only justice.
The case of Lapshin is a good lesson for those looking to visit the occupied territories of Azerbaijan. An Israeli citizen, Lapshin was sentenced to three years in prison by the Baku Grave Crimes Court, and this should be a wake-up call for Armenia's friends.
Lapshin's sentence was rather rigid for other "tourists" to think twice before they go to visit Azerbaijan's occupied territories, and soft enough, given the blogger's provocative statements regarding his visits to Azerbaijan after he was included in the Foreign Ministry's "black list".
Meanwhile, holding Lapshin in a correctional facility was not that important, as almost immediately after the verdict, Baku was ready to consider the Israeli request concerning the blogger's extradition.
And the fact that Ilham Aliyev pardoned Lapshin also tells about Azerbaijan's humane attitude towards the detainee.
Pardoning Lapshin is a humane step, which was taken not just for him, but for his elderly mother, who is not to blame for her son's character and actions, and also as a sign of respect to those countries that are not lucky enough to be his homeland.
It is clear that they are not lucky enough, because the blogger shared disparaging opinions both about Russia and Israel, which, using all diplomatic resources, fought for the release of their prodigal son. All parties involved in the case considered it their duty to take part in Lapshin's fate, which is actually correct as each state must be responsible for its citizens, even if its citizen is a criminal. However, Lapshin, as a person, is not worthy of that attention.
In Lapshin's travel blog, there is enough evidence of how he actually treats his numerous homelands. He gladly describes the process of bribing certain employees of the Russian Consulate in a particular country and tells how he fooled the Israeli airport security system.
Besides, it is not for nothing that Lapshin was repeatedly detained by the Israel Security Agency Shabak in 2002 on suspicion of espionage against the country, while serving in Israel Defense Forces, as well as in 2006, which he also states in his blog.
Incidentally, given the blogger's ambiguous personality, it is not surprising that Israeli officials significantly delayed the procedure related to Lapshin's extradition.
---
Follow us on Twitter @AzerNewsAz