4 August 2017 20:54 (UTC+04:00)
2 208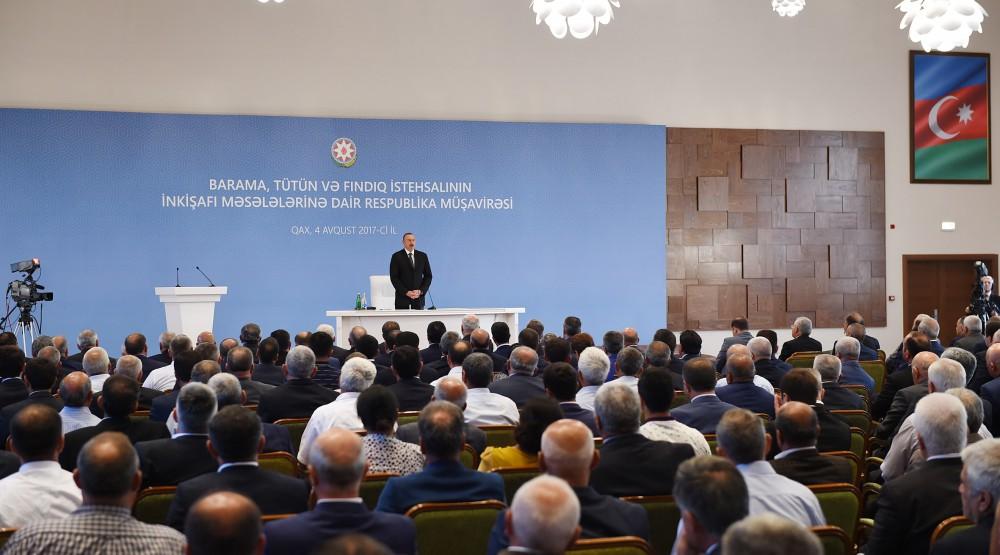 "Food security is one of the key priority issues and the achievements made in this area are very pleasing. Better results are expected in the years to come," said President Ilham Aliyev as he addressed a republican conference on the development of sericulture, tobacco and hazelnut production in Gakh district, Azertac reported.
Pointing out that food security is one of the key tasks ahead, the head of state said: "We are focused on this area because it is a priority. Representatives of the older generation are well aware of the fact that in the Soviet times, Azerbaijan could not provide itself with meat, butter, milk, chicken, and these products came from other republics. We, in turn, produced cotton, grapes, fruits, vegetables, tobacco and hazelnuts and exported them to other republics. But during the years of independence, the food security issues have come to the fore. Therefore, we have focused on this area. As a result, today there is a significant development in grain growing. True, this cannot yet fully satisfy us, we have not yet fully satisfied our needs, but there is progress. Meat production almost meets the needs of Azerbaijan."
"Thanks to the measures to be taken in the years ahead, we will have even great export potential. We provide ourselves with chicken by 100 per cent, with milk and dairy products by about 80 per cent."
"Azerbaijan exports large amounts of fruit and vegetables. That is, food security is a key priority issue in the country. I can say that the achievements made in this field are very pleasing. There will be even greater results in the years ahead," the President added.
---
Follow us on Twitter @AzerNewsAz
Related News