25 July 2019 11:50 (UTC+04:00)
1 686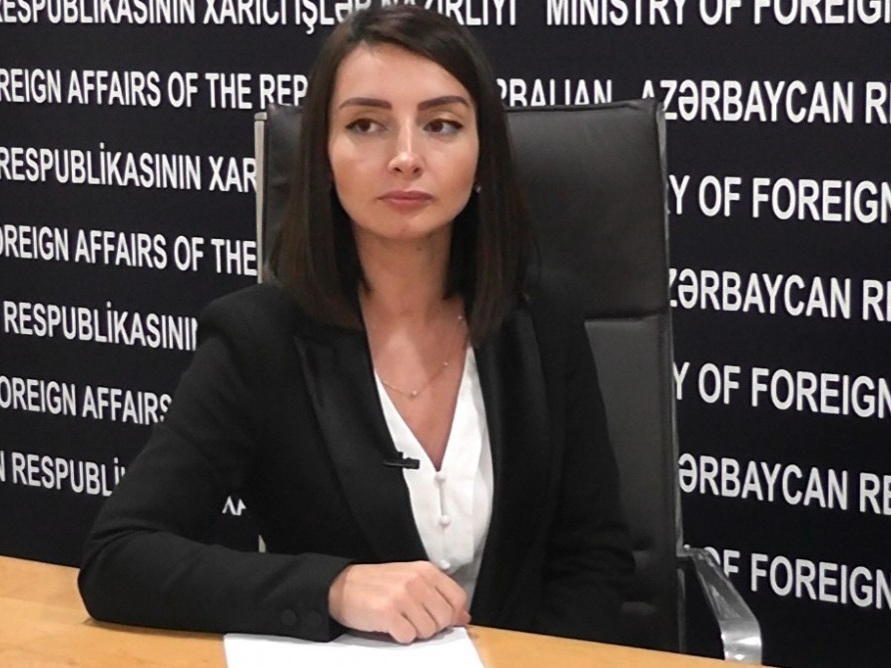 By Abdul Kerimkhanov
Despite the peacemaking efforts of Azerbaijan, Armenia is hindering the step-by-step resolution of the Nagorno-Karabakh conflict, through political and military provocations. Armenia seeks to disrupt the negotiation process through maintaining the current status quo, based on the occupation of the territories of Azerbaijan.
Armenia, verbally voicing peaceful statements, in fact, further strengthens the illegal military occupation of Azerbaijani territories, said Spokesperson of Azerbaijani Foreign Ministry Leyla Abdullayeva.
Commenting on the statements made by the spokesperson of the Armenian MFA on the Nagorno-Karabakh conflict, she noted that negotiations are conducted between the direct parties to the conflict - Azerbaijan and Armenia.
Abdullayeva emphasized that the territories indicated in the statement of the Armenian MFA's spokesman are internationally recognized territories of Azerbaijan under the occupation by the Armenian Armed Forces.
She reminded that this postulate is confirmed in relevant resolutions of the UN Security Council and the UN General Assembly, as well as in numerous other decisions of international organizations.
Abdullayeva added that anyone who makes statements on the conflict between Azerbaijan and Armenia, first of all, should familiarize themselves with these documents.
Azerbaijan repeatedly voiced its position on the participation of the Armenian community of Nagorno-Karabakh in the negotiations on the conflict settlement at a high level. The country's officials consider that representatives of Azerbaijani and Armenian communities can be involved in the negotiation process at a certain stage with the consent of all OSCE MG participants.
Abdullayeva pointed out that those who want to familiarize themselves with the OSCE's position on this issue can read the Helsinki decision of this organization of March 24, 1992.
The status of Nagorno-Karabakh can be considered jointly by the Azerbaijani and Armenian communities after the Azerbaijani population, expelled from their territories as a result of ethnic cleansing against them, returns to their homes, and thus, the two communities of the region will live together. This position of the Azerbaijani side is in accordance with the position of the world community based on the inviolability of compliance with the norms and principles of international law.
Abdullayeva expressed regret that today, the Armenian leadership, on the one hand, speaks of the need for a peaceful resolution of the conflict, and on the other hand, gives orders to kill Azerbaijani soldiers.
She stressed that this is not the first time that the Armenian side, under various pretexts, hinders the achievement of a positive shift in the negotiation process.
As a result of the Armenia-Azerbaijan Nagorno-Karabakh conflict, over 1 million Azerbaijanis became internally displaced, 20,000 people were killed during the hostilities, 50,000 people became disabled, about 4,000 Azerbaijanis were missing, among them 67 children, 265 women and 326 old men. To this day, nothing is known about their fate. Over 2,000 Azerbaijanis were captured and held hostage by Armenians.
---
Abdul Kerimkhanov is AzerNews' staff journalist, follow him on Twitter: @AbdulKerim94
Follow us on Twitter @AzerNewsAz
Related News