"Armenian genocide: real history or historical lie" conference kicks off in Baku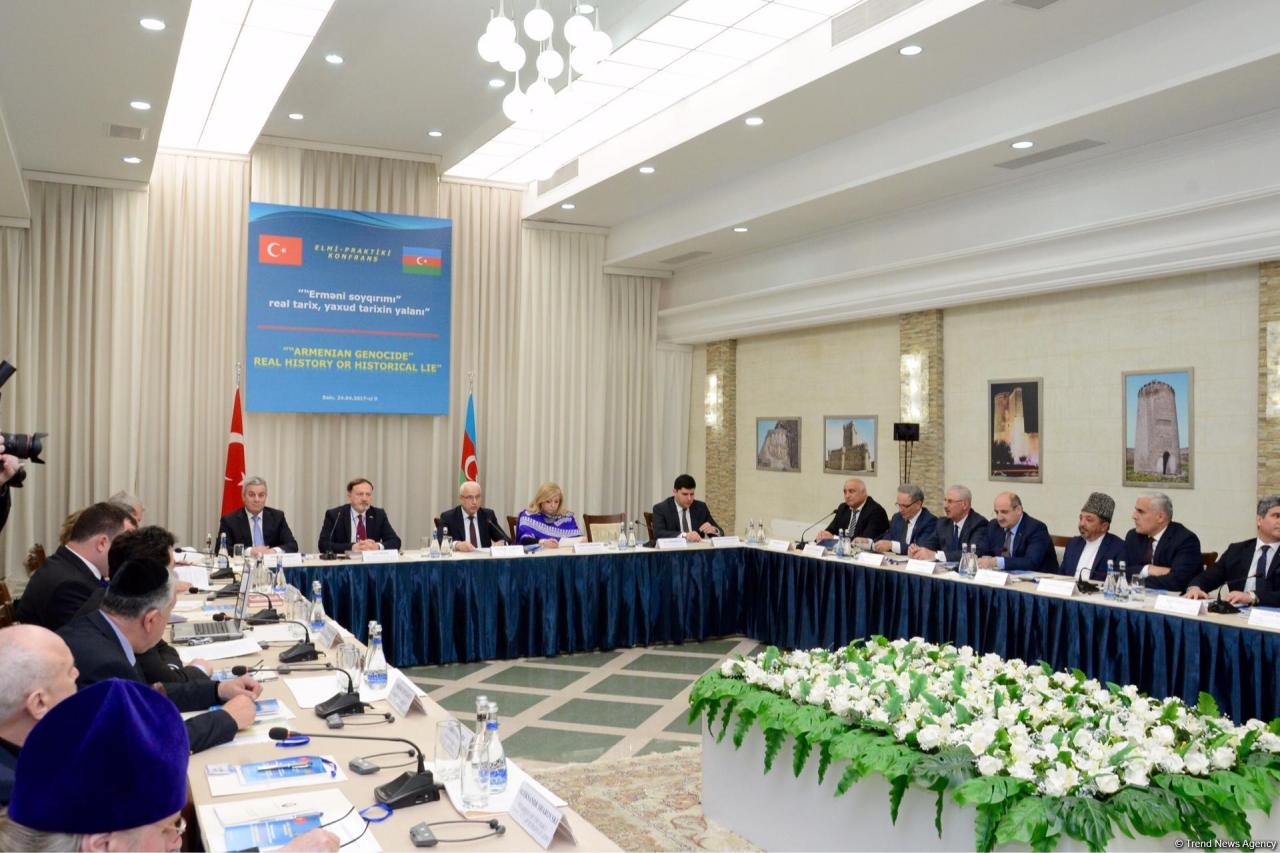 By Rashid Shirinov
A scientific and practical conference "Armenian genocide: real history or historical lie" kicked off in Baku on April 24.
Representatives of various state structures, MPs and foreign participants attended the conference organized by the State Commission on Prisoners of War, Hostages and Missing Persons.
In his remarks at the event, Secretary of the State Commission on Ismayil Akhundov highlighted the goal of the conference and the issues to be discussed at the event.
Chairman of Turkey's Talat Pasa Committee Ali Erdinc, addressing the event, delivered a lecture on "What actually happened on April 24, 1915" Response to Armenian lies, and the importance of Azerbaijan-Turkey relations in this regard".
He said that the committee aims to reveal the groundless Armenian claims and increase the world community`s awareness of realities in order to ensure territorial integrity and national security of Turkey and Azerbaijan.
"We must fight against Armenian lies, hindering the development of Turkey and Azerbaijan, otherwise it will increase," he said.
Erdinc reminded that during 1915-1918 Armenians killed tens of thousands of innocent people in Van, Istanbul, Erzurum and other cities of Turkey, as well as in Baku and other Azerbaijani territories.
"We need to inform the world community about these atrocities of the Armenians and not give them the opportunity to deceive the world community by hiding their criminal acts," he noted.
The Armenians committed genocide of the Azerbaijanis in the beginning of the 20th century. This genocide was carried out with extreme violence in Baku, Shamakhi and Guba counties, as well as in Karabakh, Zangezur, Nakhchivan, Lankaran and other regions of Azerbaijan. Armenians killed many civilians in these areas, burned and razed to the ground villages and destroyed Azerbaijani monuments of national culture.
Azerbaijani MP Isa Habibbayli, in turn, noted that Azerbaijan has always fought and continues to fight against Armenian lies.
"The basis of work in this direction was laid by national leader Heydar Aliyev, and today it is continued by President Ilham Aliyev," he said.
Habibbayli noted that today Armenians continue to spread lies and it is necessary to strengthen work on the fight against Armenian lies.
The Armenians falsify history and include a part of Anatolia and other territories in the map of 'Great Armenia'. "Therefore, we, Azerbaijani and Turkish scientists, should jointly fight against falsifications of the Armenians," the MP said.
Former Ombudsman of Moldova Aurelia Grigoriu, in turn, noted that Armenia is a mono-ethnic state and it does not want to see representatives of other nations in the country.
"Therefore, the topic discussed today is important not only for Azerbaijan, Turkey and the Turkic peoples, but is also relevant for all peoples of the world. Armenians actively use foreign media for spreading false propaganda," she said.
Head of Department of the Presidential Library, PhD in History Nazim Mustafa, senior research fellow of the Center for Strategic Studies Araz Gurbanov, Professor of the Institute of Oriental Studies, PhD in History Solmaz Rustamova-Tohidi and others also addressed the conference.
Many historians, scholars, experts announced that the hundred-year-old lie, the so-called 'Armenian genocide' contradicts historical facts. Ever since Armenia came out shouting 'genocide', no real investigation into such allegations has ever been carried out although Turkey proposed Armenia to open its military archives and investigate the issue. Moreover, there have been many accounts which actually disproof Armenia' stance.
---
Rashid Shirinov is AzerNews' staff journalist, follow him on Twitter: @RashidShirinov
Follow us on Twitter @AzerNewsAz