Feelif technology: Feeling life under your fingers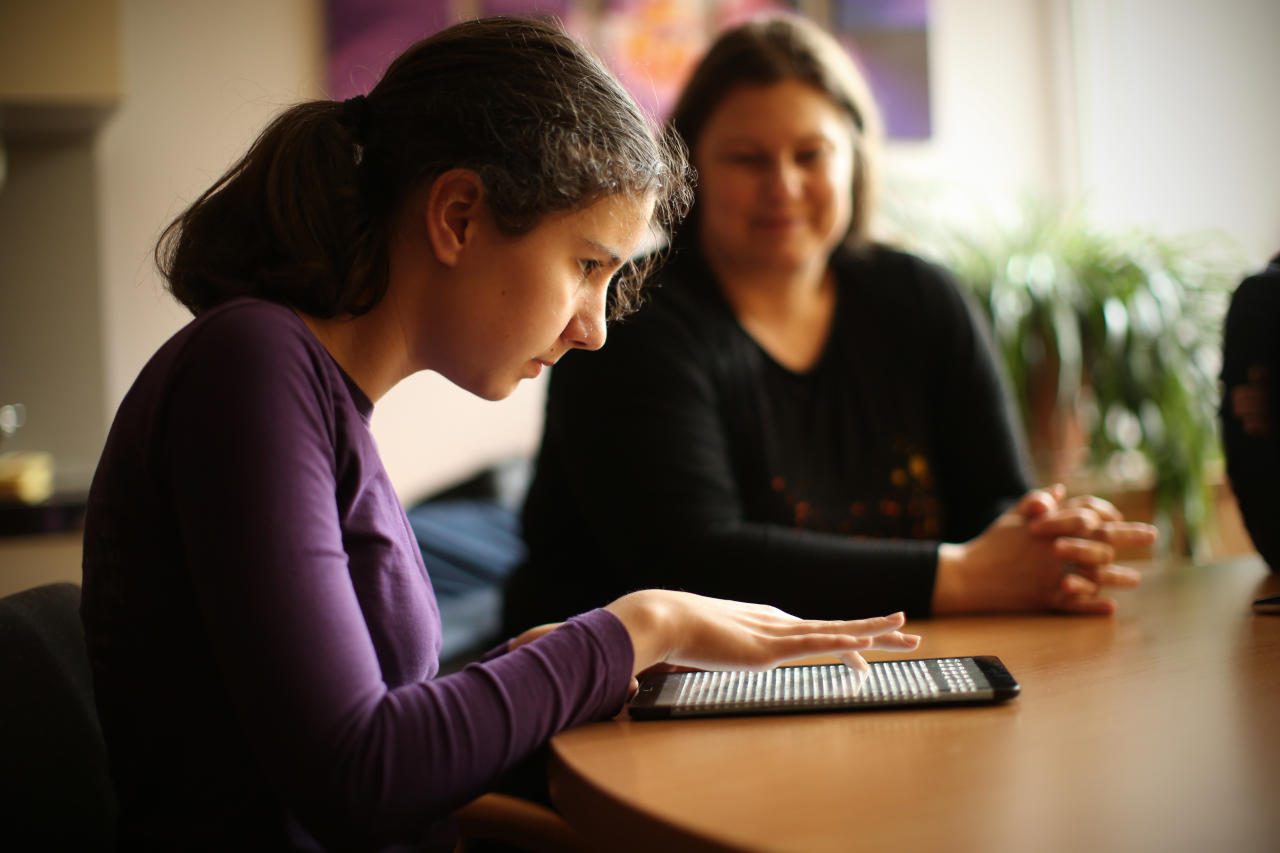 By Maja Prijatelj Videmšek
Delo
Photo: Jure Eržen
Mia, an elementary school student at the IRIS Centre for the Blind and Visually Impaired Youth, is sliding her finger on the tablet screen covered with a special grid. By following the vibrating points, she skillfully detects the shape of a square on the screen. She then tries to solve the Memory Game and is delighted each time she finds compatible plates with animal motifs and is rewarded with appropriate animal sounds. She is already familiar with the Feelif device as she has tried it several times, and she is also contributing to its development with her suggestions. This innovation from 4WEB in Slovenia will not only make her life easier but can also improve the lives of millions of other blind and visually impaired people around the world.
The blind and visually impaired can be very skillful at using tablets and smartphones with touchscreens. The groundbreaking innovation of the Feelif multimedia device now enables them to feel the shapes of objects on one-dimensional surfaces too. Until now, the closest thing to this was a Braille graphic screen which displays shapes with raised pins but it is prohibitively expensive: it costs around 50,000 euros. Only educational institutions for the blind and visually impaired are able to afford it.
Feelif is about a hundred times cheaper. Željko Khermayer, the inventor and founder of the digital agency 4WEB, claims that this device can open up new dimensions of using information in a digital format, such as feeling shapes, making drawings, and using interactive stories. This ability may come naturally to those who can see but until now it was inaccessible to the blind and visually impaired.
A tool for learning Braille and geometry
Željko had the Feelif idea in 2013 while watching a documentary on the deaf-blind community in Slovenia. He was deeply touched by the fact that these people were deprived of many experiences due to their loss of vision, and they were also cut off from the rest of the world because of the high costs of communication technology. He decided to help.
Željko then started developing innovative technology for the blind and visually impaired, like applying vibrations, sounds, and voices to help users identify shapes displayed on the tablet screen or which they drew themselves. The small elevated points on the grid allow for better orientation as the user slides his or her fingers on the screen.
The Feelif was developed with the help of elementary school students and therefore the content is focused on school subjects, says Katarina Pavšek, a member of the 4WEB team. The application will be very useful for learning Braille and geometrical functions, and will enable quicker learning and independent studying. 4WEB is also looking for ways to apply the technology to adults. They are testing a device on the Slovenian market and the first users will receive it within a month.
As it is meant to be fun, the Feelif will also stimulate the learning process. It is well-known that blind and visually impaired children often have a hard time staying attentive. "They need more encouragement during their learning process," explains Katarina. She adds that existing learning methods are still needed to help children get fine motor skills.
10 year old Damjan who lost his sight due to an illness was most excited about being able to draw. "If you draw with a pencil, you can not feel shapes with your fingers. With Feelif this has becomes a possibility. It's really easy to learn how to use it," says Damjan.
Mrs. Maja Koritnik, mother of a visually impaired child remarks, "Parents of blind and visual impaired kids see the benefit of Feelif's work in a simple and innovative approach; the source of the idea is a honest readiness to help others, and at the same time the idea is a reflection of social responsibility Feelif's team."
88 million potential users
The Feelif multimedia device consists of a tablet, a relief grid placed over a screen, and an application which connects all these parts into an experience that can be felt by the fingers of a blind person. It costs 500 euros. "When we are sure that the product is at an excellent level, we will make it available on the global market: first in European countries, and later in the USA," says Katarina. There are about 14 million potential users of the device in both markets, and 88 million potential users worldwide.
The company is also developing an open platform which will create a network of people linked to the blind and visually impaired: the blind and visually impaired themselves, their parents, their teachers, and those who want to create appropriate content for them. This platform will facilitate the sharing or selling of content, which in turn could create new business opportunities for the blind and visually impaired, and their parents.
4WEB is searching for funding to develop this open platform, but considering their success as an innovator, this shouldn't be too hard. At this year's Webit Europe Festival in Sofia, Bulgaria, they were the second best innovation among 2,425 startup companies. 4WEB also won the Slovenian competition of social innovations and was one of the five finalists at the Podim conference for startup companies in the Alpe-Adria region. The United Nations Educational, Scientific and Cultural Organization (UNESCO) listed the Feelif device is one of the 150 best innovations in the world. Željko Khermayer, the founder and CEO of the company, has also been named as one of the 100 most influential innovators in Central and Eastern Europe.