8 January 2016 08:00 (UTC+04:00)
4 146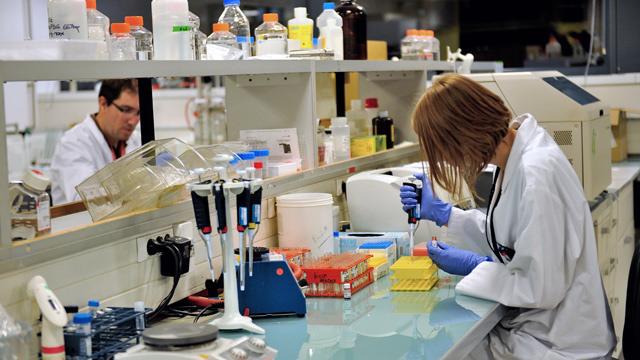 By Gulgiz Dadashova
Developing pharmaceutical manufacturing in oil-rich Azerbaijan may become one of major directions in the country's aspiration to diversify its non-oil sector of the economy.
Easing tax burdens and allowing entrepreneurs more space to maneuver may have a positive effect on this industry in terms of big changes ahead.
With a growing population of over 9.6 million, Azerbaijan's healthcare system will require an organized and well-established public health sector. As a major social stabilizer healthcare remains an important point in the agenda of the government. The need for healthcare is growing nationwide as population is aging and human life expectancy is growing with the better provision of healthcare.
The government increased its healthcare budget more than 10 times in the past decade and the figure hit 665.3 million manats ($425 million) in 2014. There were built or remodeled over 566 hospitals and healthcare facilities so far. Currently, the life expectancy in Azerbaijan is 72 years for men and 76 for women.
Although the country is interested in ensuring broad access to healthcare provision with a high level of quality on one hand, on the other hand it seeks to cut healthcare spending. Cost cutting measures affect not only patient and consumer but also the pharmaceutical sector.
In late 2015, the government announced that Azerbaijan will create own enterprises that will manufacture medicines to cease dependence on imports. The government reaffirmed aim to continue the development of medicine manufacturing industry and establish pharmaceutical companies.
Deputy Prime Minister Ali Ahmadov announced last week that the talks will be soon launched on creating enterprises for the production of medicines in Azerbaijan.
He said for a long period Azerbaijan lacked practice for the production of medicines, there were no specialists in this area, and most of the drugs imported from abroad.
"The drug import from abroad adversely affects the functioning of the internal market, leads to leakage of a large amount of currency outside the country. The way out of this situation is to establish relations with reputable pharmaceutical companies in foreign countries and establish relevant companies here based on the corporation. Ultimately, Azerbaijan could gradually form its own practice in the production of drugs," he said.
The market of medicines in Azerbaijan by 97 percent dependent on imports, while 57 percent of medicines registered in the country are produced in Europe, 26 percent in the CIS countries, including 12 percent made in Russia. The small proportion is produced in Asian countries.
Despite the opportunities, medicine production in Azerbaijan is not managed well. The share of basic pharmaceutical products manufacture in Azerbaijan's total industrial production is 0.01 percent, according to the State Statistics Committee. As of 2014, number of the acting enterprises in this sphere is only eight, with volume of industrial products worth 2.7 million manats ($1.7 million) at factual prices.
Manufacture of main types of medical products in natural value is as following: medicaments of other antibiotics p.r.s.- 161,600 manats ($103,243), other medicaments of mixed and un-mixed products p.r.s. n.e.c – 384.500 manats ($245,648), wadding, gauze, etc with pharmaceutical substances p.r.s. – 113.100 manats ($72,257).
Pharmaceutical activities in Azerbaijan are licensed by the Center for Analytical Examination of Medicines under the Health Ministry. The ministry also controls the quality of the medicines. Only 55 medicines are manufactured in the country, the ministry reports.
On drug prices in the retail sale, the country started regulating the prices of medicines from September 15, 2015. A list of medicines is constantly enlarging. Up until now, the Tariff Council has approved the prices of over 3,540 kinds of medicines. Compared with the current price, the price of 46 percent of medicines decreased more than two times, 24 percent – more than three times. In general, prices have fallen for 95 percent of all the medicines.
Deputy head of the parliamentary committee on healthcare Musa Guliyev, in turn, said the country can also in the future export medicines. "Instead of spending huge funds to purchase the medicine from abroad, we can sell medicine and get foreign currency. The point is that the country enjoys rich herbs. Producing herbal medicines we can open new jobs in regions and use the resources effectively."
The MP is sure that the country enjoys potential to build pharmaceutical plants, adding that the government needs to offer concessions to attract entrepreneurs to this sector.
"Firstly, in case the raw material for medicines is brought from abroad, then it needs to be free from custom duties. Also, tax incentives should be applied in relation to such plans for at least several years."
Due to lack of domestic production, the country is also huge market for medical device investments. Currently, the country imports medical devices from US, Germany, Japan, France, Russia, and Turkey. Reportedly, Russian and Turkish firms provide lower-cost equipment, which has resulted in an increasing popularity of these equipment and supplies in the local market.
The biggest issue for Azerbaijan's pharmaceutical industry is the lack of human capital, in particular doctors with up-to-date expertise and medical researchers. However, the government is promoting programs that encourage the youth to engage in the medical sciences.
Ilgar Muradov, who works at one of local pharmaceutical companies, said it takes at least ten years for a new medicine to complete the journey from initial discovery to the market place, with clinical trials lasting about 5-7 years on average.
The average cost to research and develop each successful drug is estimated in billions, and this requires not only huge recourses but also labs and pro researchers, he told AzerNews. The overall probability of clinical success, that is, the likelihood that a drug entering clinical testing will eventually be approved is estimated to be less than 15 percent.
A 2013 analysis conducted by Forbes says that a company hoping to get a single drug to market can expect to have spent $350 million before the medicine is available for sale. In part because so many drugs fail, large pharmaceutical companies that are working on dozens of drug projects at once spend $5 billion per new medicine.
Muradov further said that consumer nature and price sensitivity are among important environmental differences to which pharma business models need to adapt.
"The old model for pharmaceutical research and development does not work. Going into risk sharing, collaboration and partnerships would be one way of lowering costs," he said.
With its high growth capacity and the government's focus on development, Azerbaijan's market outlook is still positive. The government is sure any investment in the country's healthcare industry, promises to be rewarding.
--
Follow Gulgiz Dadashova on Twitter: @GulgizD
Follow us on Twitter @AzerNewsAz
Related News