26 May 2016 15:34 (UTC+04:00)
4 237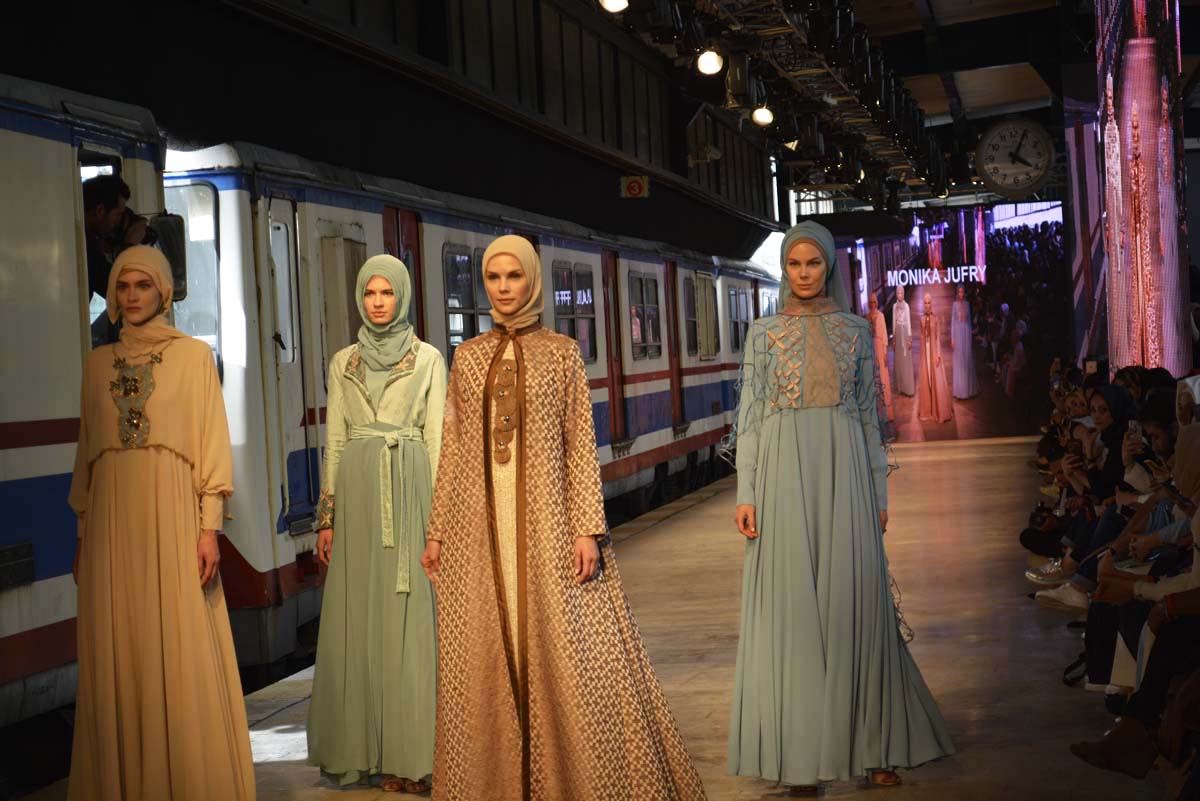 By Laman Ismayilova
Azerbaijani women's national headscarf - kelagayi was successfully presented at Turkey's Modest Fashion Week. The event took place at the Haydarpasa railway station.
Fashion event brought together designers from all around the globe, ranging from Indonesia to Azerbaijan, Trend Life reports.
The program included fashion shows, panels and workshops on a variety of topics including marketing and social media. The representatives of leading world media agencies, such as the New York Times, Washington Post, Daily Mail UK attended the event.
The organizers anticipated guests from 25 countries, including fashion blogger Dina Tokio; Haneefah Adam, creator of Hijarbie; Mariah Idrissi, the first hijab-wearing model for global modest brands; Kuwaiti influencer Fatema Al Awadhi; and many others.
The main element of Hijab Queen fashion collection were silk kelagayis, accessories and clothing for Muslim women. The colorful collection was of great interest of the guests.
The main goal of the presentation Hijab Queen is to promote national heritage of Azerbaijan. In 2014, a unique silk headscarf was added to the intangible cultural heritage list by UNESCO.
Kelagayi is Azerbaijani women's national headscarf made from fine and soft silk in a four-cornered shape. For many centuries, it was an integral part of Azerbaijani women's national costume that protects them from both the hot sun and cold wind as silk is cool in summer and warm in winter.
The color of the headscarves has symbolic meaning often tied to specific social occasions such as wedding, mourning ceremony, daily activity or festivities.
In a traditional Azerbaijani wedding ceremony, the bride wears a red kalaghai, which covers her face and embraces her body. The bridegroom's shoulders are also covered with a kalaghayi.
The older women wore a dark kelagayi, mostly black and dark blue, whereas younger women preferred the brighter ones, such as white, beige, etc.
Traditional Azerbaijani garment Kalaghayi is the soft, silk headscarf with various botanical, isomorphic and geometrical ornaments; buta, peacock, rose, daffodil, carnation, tulip, lily, pomegranate, quince, plum blossoms and various shaped leaves on it.
The whimsical drawings of the leaves and flowers overlap with complex geometric patterns.
The composition consisting of botanical and geometrical ornaments has symbolic and mysterious characteristics.
The main figure used in kelagayi is buta, a twisted teardrop that has been a symbol of the divine fire, which has been worshipped in Azerbaijan since ancient times.
A kelagayi was tied in various ways, depending on the region. In some places kelagayi was tying over kerchief previously collecting hair with flax. Young girls do not cover their head with kelagayi, and wear them instead of a scarf, beautifully tie it around the neck or cover shoulders as part of the accessory.
The most famous kelagayis are "Shah buta", "Saya buta", "Khirda buta", "Heyrati", "Soghani", "Istiotu", "Albukhari", "Abi", "Gonshuchatladan", "Baghdadi", "Shamakhi", "Bestenigar", "Gelinlik", "Gizili", "Mikheyi", "Yemishani", "Zeytuni" and "Yelani".
National headscarves are especially famous in Sheki. Since the middle ages, the city, located on the Great Silk road, attracted merchants and traders for its handicrafts, especially silk scarves.
This art is thriving here for centuries. Nowadays kelagayis are manufactured in Basqal, a picturesque village near Shamakhi. Basqal is also known for its Silk Center and Kelagayi Museum, which provides visitors and tourists with a comprehensive picture of this ancient Azerbaijani art. In the museum visitors are told about the history of kelagayi making as well as the patterns and their meanings.
Kalagai is manufactured in three steps: weaving, dyeing and hand-printing. Traditionally kelagayis were in the form of a square and regular in size -- 150x150 or 160x160 cm.
The first stage is the production of silk threads. The thinnest thread is requested for kelagayi weaving.
The material woven in the loom is cut and boiled in water. Then it is hanged for drying. After drying, the kelagayi is decorated with patterns.
Patterns are put on a kelagayi with a stamp which is called galib and made from pear, nut and wild apple trees.
After design, the kelagayi is colored in a dyeing facility called "kup dami" in Azerbaijani.
Although the days when kelagayi were so popular among women left behind, the tradition of covering head with kelagayi is still preserved in some regions of the country, mostly among older generations of women.
Being a symbol of beauty, grace, and honor, kelagayi remains a vibrant element of Azerbaijan national women's clothing.
---
Laman Ismayilova is AzerNews' staff journalist, follow her on Twitter: @Lam_Ismayilova
Follow us on Twitter @AzerNewsAz
Related News