New Azerbaijani film presented in Poland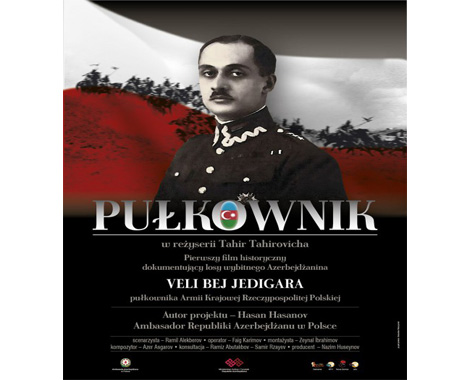 By Laman Ismayilova
A presentation ceremony of documentary film "Colonel" shot by studio "Salname" of the Azerbaijani Culture and Tourism Ministry was held in Warsaw on March 14.
The director of the film is Tahir Aliyev, author of the idea is Azerbaijani Ambassador to Poland Hasan Hasanov, screenwriter Ramil Alakbarov, operator Faiq Kerimov, composer Azer Hajialasgarli, producer Nazim Huseynov.
Filming was carried out in Azerbaijan, Georgia and Poland.
Addressing the ceremony, deputy director of the museum Jolanta Dambek spoke about Azerbaijani soldier Veli bek Jedigar, fighting in both World War I and World War II.
In a short time, the Azerbaijani servicemen reached a high official position. His life was full of bright and interesting events.
Museum Director Leszek Cheli said that Veli Bek Yadigar left a bright trace in military history of Poland.
The books of prominent Azerbaijani soldier are valuable sources for historians.
Leszek also stressed that the Museum owns personal belongings of the colonel.
Tahir Aliyev, for his part, said that he was glad that the premiere of the movie took place in Warsaw, in one of the centers of world cinematography.
Then, Aliyev thanked the Azerbaijani Ministry of Culture and Tourism, "Salname" studio and the Embassy of Azerbaijan in Warsaw for their contributions to the project.
Later, the film's director was awarded the commemorative medal of the embassy.
Veli bek Jedigar was a soldier of the Imperial Russian Army and officer of both the Azerbaijani Armed Forces, Polish Army, in the Second Polish Republic and the Home Army. He served in different armed forces from 1916 until 1946, fighting in both World War One and World War Two.
Jedigar was born in 1897 in the real estate of Tekeli, Tiflis Governorate in a noble Azerbaijani family.
After graduating a private gymnasium in Tiflis, he briefly studied at Kyiv Polytechnic Institute, but changed his mind and joined Tiflis Cadet Corps, in 1916.
Following the Red Army invasion of Azerbaijan, Veli bek Jedigar continued fighting against the Bolshevik invaders until March 1921, when he left his homeland, and via Turkey and Romania left for Poland.
November 1922 he was officially accepted into the Polish Army, with the rank of the cavalry officer. He completed with distinction the Higher War School in Warsaw, and as a qualified officer, was sent to Baranowicze (Belarus) Cavalry Brigade.
Azerbaijani soldier was respected by the Home Army authorities, and as a personal friend of the Polish military leader, General Tadeusz Bor- Komorowski, was responsible for cavalry training.
Veli bek Jedigar died of heart attack in Buenos Aires, on December 13, 1971. His ashes were buried at Warsaw's Muslim Tatar Cemetery.
---
Follow us on Twitter @AzerNewsAz