19 May 2014 13:00 (UTC+04:00)
1 293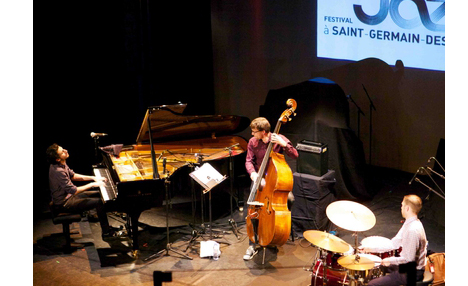 By Nigar Orujova
The Isfar Sarabski Trio made a triumphant performance in Paris on May 16.
Performing as part of the famous Festival Jazz a Saint-Germain-des-Pres Paris, they entertained more than 300 people.
Created in 2001 and located in the famous Saint-Germain-des-Pres area, heart of jazz in Europe, the Festival is one of the greatest jazz events in Paris during spring every year. The14th edition of the festival gathered large audiences including critics, musicians, and fans alike.
Performed with a rich blend of music, most of which were Isfar's own compositions, the concert was supported by the European Azerbaijan Society (TEAS) and took place at the Maison des Cultures du Monde cultural centre.
Isfar has won numerous awards in recent years, including that of the Jazz Solo Piano Prize at the Montreux International Jazz Festival in 2009 when Isfar was only 19. He is also an Honoured Artist of Azerbaijan.
Performing in the standard trio setting with Makar Novikov (bass) and Alexander Mashin (drums), he performs in a post-bop jazz style mixed with mugham, the traditional music of his homeland.
Isfar's programme began with a dreamlike introduction to his Deja vu, which picked up tempo with the introduction of Alexander Mashin's drumming. The trio has been playing together for several years, and this was evident when the interplay between Isfar and the innovative Alexander was heard. The piece demonstrated Isfar's exciting and percussive style.
His Transit to New York was a more contemplative piece, showcasing the talents of bassist Makar Novikov while Isfar's delicate piano solo went on to elicit a call of 'magnifique' from the audience.
After a solo introduction that alluded to the magical aspects of the ballet, Isfar's next solo developed into the Dance of the Cygnets from Tchaikovsky's Swan Lake Ballet.
Isfar is trained in classical music, and his Prelude began with an obvious homage to J.S. Bach before developing into a funky riff that led to the audience's spirited clapping to the beat. This also gave Alexander Mashin a chance to demonstrate the full range of his techniques.
After a wild applause, Isfar's trio returned to the stage for an encore of his Novruz, which incorporates the eastern harmonies of his homeland.
Isfar regularly performs in the Baku Jazz Centre which hosts concerts every evening, and the Baku International Jazz Festival which has hosted a range of international and Azerbaijani performers, including Billy Cobham, Joe Zawinul, and Herbie Hancock.
Related News