25 January 2014 10:37 (UTC+04:00)
1 794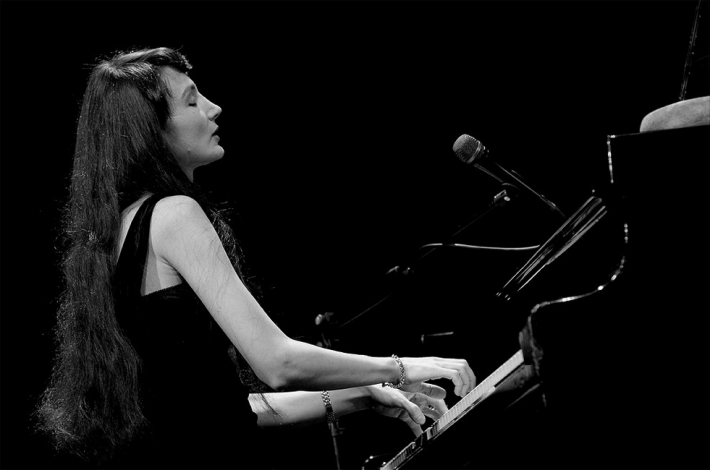 By Nigar Orujova
Aziza Mustafa Zadeh, the well-known Azerbaijani Jazz princess, pianist and composer, gave a successfully concert in the city of Mainz, Germany.
The concert "Trio um die Pianistin Aziza Mustafa Zadeh" consisted of improvisations on oriental motifs, mixture of jazz, classical and ethnic music, synthesized Azerbaijani melodies.
The trio including Ralph Cetto on bass guitar, percussionist Simon Zimbardo and Aziza presented a wonderful musical evening, which took place with the full house in the Frankfurter Hof hall.
"Aziza Mustafazadeh is a true virtuoso. When she synthesizes traditional mugham music of her homeland with Azerbaijani jazz, classical and folk music, her creativity seems limitless. Audience was fascinated and long applauded the musicians," German press reports.
Jazziza, or Aziza Mustafa Zadeh, was born in the family of renowned Azerbaijani jazzman Vagif Mustafa Zadeh, founder of jazz mugham genre. "I was born into the world of jazz, and more specifically into the world of "mugham," a form of traditional, improvisational music in Azerbaijan," she believes.
Aziza lives in Germany since 1990. German critics call her "Scheherazade at the piano". Jazziza's creativity is a mixture of classical, jazz and Azerbaijani folk motifs, which conquers hearts. After a concert in "Queen Elizabeth Hall" in 1997, she was awarded the title of the "Queen of Jazz", which she retains to these days.
She is active in working on projects, collaborating with famous musicians, recording music, while having ten captivating albums in her discography, and gives concerts around Europe.
Related News