National writer Anar meets winner of Central Asia literature competition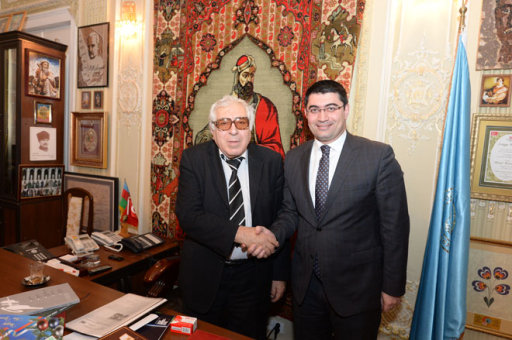 By Nigar Orujova
Chairman of the Writers' Union of Azerbaijan and national writer Anar congratulated writer Zaur Hasanov on winning the contest "Open Central Asia Literature Competition 2013".
The committee of the Open Central Asia Book Forum and Literature Festival 2013, which was held in the UK, announced the winners of its three categories, "Literature", "Translation", and "Illustration" on November 7-11.
Zaur Hasanov became the final winner of the competition with his novel "Hillman".
The competition included 168 submissions by authors from more than 20 countries.
His book will be published by Hertfordshire Press in 2014.
The novel's storyline, which reveals the hitherto unknown facts of the Caucasus wars in the last 20 years, is closely intertwined with the plot of the "Iskendername" poem by legendary Azerbaijani poet Nizami Ganjavi. This helps the readers to realize the actions, motivations, and traditions of the Caucasus people, and explains the significant events of the recent past in an amusing manner.
Talking about the festival, Zaur Hasanov said, "This year, the festival organized twelve events, including two showcases of Central Asian films, cultural and touristic presentations, round tables for publishers, book readings, and the awarding ceremony, which was attended by over five hundred spectators."
It was also noted, that another Azerbaijani, Saadat Ibrahimova, who worked in collaboration with British Ian Peart, entered the short-list of the competition and won silver at the Translation category.
The festival was organized and supported by Silk Road media, Hertfordshire Press, Yunus Emre Center London, BBC Central Asia Service, Orzu Arts, Navruz Restaurant, Cambridge Central Asia Forum, Open Central Asia Magazine, and Cambridge University Kazakhstan Society.
This festival is a great stage for regional authors to promote their own ideas, exchange experiences with their colleagues from all over the world, and discover famous authors and newcomers from Central Asia, Great Britain, and many other countries.