15 May 2013 16:29 (UTC+04:00)
1 514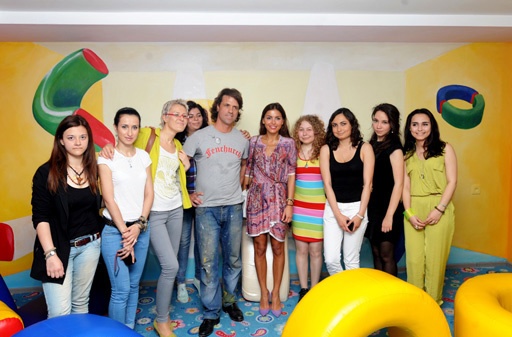 By Nigar Orujova
YARAT! Contemporary Art Space, an organization promoting Azerbaijani modern art worldwide, has presented a project of Argentinean artist and designer Patricio Forrester and the Artmongers creative group.
The project, which is implemented as part of the Participate Baku Public Art Festival, is aimed at providing conveniences for patients at a clinic in Baku.
The event was attended by YARAT! Contemporary Art Space founder Aida Mahmudova, as well as prominent public figures and people of culture and art.
"Today the sixth project within the Participate Baku Public Art Festival, which is associated with children, was presented. The project was presented by artist Patricio Forrester, who came from London and held a three-week course for a group of young people," Mahmudova said.
She said the project, which mainly targets the development of children's thinking, has been created jointly with Forrester and those young people.
"A number of figures have been created by using which one can put together both numbers and other objects. The place has also been covered with drawings to create a special atmosphere," Mahmudova noted.
Chief doctor of the Republican Clinical Hospital for Children, Nargiz Gasimova, thanked YARAT! Contemporary Art Space for the implementation of this project, as well as Azerbaijan's Health Ministry for its participation in it.
"The project is magnificent. The artists provide an opportunity for intellectual development of children. This corner, this oasis, created by young artists, shortens the recovery period of our children," Gasimova said.
Forrester, the author of the project, explained that the project, an idea which emerged in Baku, has been implemented over three weeks.
"The task is to create art not in museums and galleries, but in unusual places, where this art is actually needed. A group of artists worked on the project, which is a playground for children. The demonstrated figures are four modules, which form numbers," Forrester said.
He thanked YARAT! Contemporary Art Space for the invitation to visit Baku.
"Coming here and learning about your culture was an awesome experience," Forrester said.
Artists and volunteers worked on the playground concept in the hospital for three weeks. The project participants conducted a preliminary study, which included interviews with the hospital personnel, patients and their parents, to develop an artistic solution of the playground.
As a result, the idea that a playground is a place for freedom, art and communication of the little patients became the basic one. The Arabic numeral system was used in the decoration, as the system is universal and understandable for everyone. The numbers are also the design elements, which can take shape of both huge and tiny objects. Each object in the playground is multifunctional and comfortable for children and adults alike.
YARAT Contemporary Art Space, founded in 2011, is a not-for-profit organization dedicated to nurturing an understanding of contemporary art in Azerbaijan and to creating a platform for Azerbaijani art, both nationally and internationally.
Based in Baku, YARAT! realizes its mission through an ongoing program of exhibitions, education events and festivals. It facilitates dialogue and exchange between local and international artistic networks, including foundations, galleries and museums.
Some ten artists from Azerbaijan, Russia, Georgia, Britain, Portugal, and the Netherlands created their projects especially for the Participate Baku Public Art Festival based on the principle of interactivity.
Related News