Worldchefs president dedicates his culinary masterpiece to Shusha [PHOTO]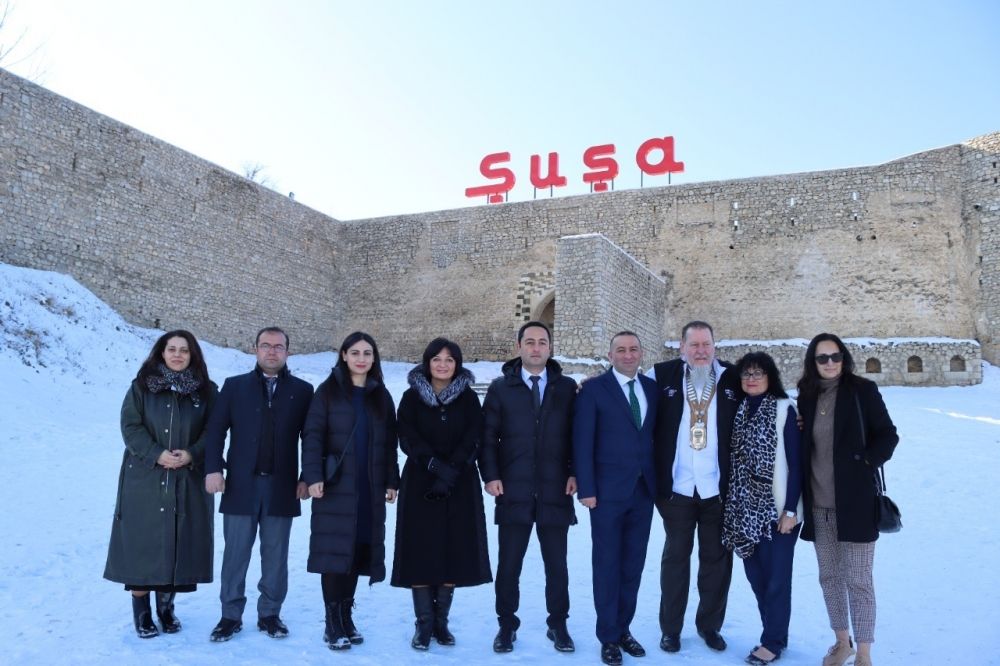 President of the World Association of Chefs' Societies (Worldchefs) Thomas Gugler visited Shusha, Azernews reports.
His visit was organized as part of the Azerbaijan State Tourism Agency conference on "Promotional prospects of Azerbaijani cuisine".
In Shusha, Thomas Gugler met with Deputy Executive Director of the Shusha City State Reserve Department, Acting Executive Director Tural Novruzov.
The Worldchefs president visited the city's cultural and historical sites, including Shusha Fortress, Bulbul House-Museum, the Jidir Duzu plain, and saw the monuments of Azerbaijan's prominent figures damaged as a result of Armenian occupation.
The chef also viewed the preparation process of Boyanali plov, which belongs to the Karabakh region, as well as Shah Pilaf, which is crowned the King of Azerbaijani cuisine.
Thomas Gugler, inspired by the cultural capital, prepared a signature Shushali dish, symbolizing the centuries-old city.
As part of his visit to the country, Thomas Gugler also attended the conference on "Promotional prospects of Azerbaijani cuisine" organized by the State Tourism Agency in Baku.
Speaking to local media, Worldchefs president said that Azerbaijan has a huge potential for culinary tourism.
"Our main goal regarding Azerbaijan is to make your country shine in the culinary field. The culinary traditions presented by Azerbaijan are exceptional since the perfect climate of the country creates conditions for the cultivation of all crops during the four seasons of the year. Also, the four existing elements - earth, water, fire, and air - have a great influence on this process," said Gugler.
Worldchefs president recalled that the culinary festival held last year in Shusha was the first step towards introducing Azerbaijan's potential in this field. He underlined that the main purpose of having these events is to demonstrate Azerbaijan's culinary traditions not only within the country but also beyond its borders.
Thomas Gugler called everyone to work together to achieve this goal.
---
Follow us on Twitter @AzerNewsAz